Formula 1 teams will have limited staff at Suzuka on Saturday and are implementing precautionary measures to try to minimise Typhoon Hagibis's impact on their Japanese Grand Prix preparations.
All track action on Saturday, including final practice and qualifying, has been cancelled with the area set to be impacted by extreme weather on Saturday.
Conditions will deteriorate this evening and are expecting to intensify from late Saturday morning, and organisers have said the Suzuka circuit will be closed to the media and members of the public.
However, some F1 personnel will be required to be at the track for maintenance and security reasons.
FIA race director Michael Masi was due to meet with team managers to discuss the matter on Friday evening.
The governing body's recommendation is that only vital personnel required for essential maintenance of equipment travel to the circuit, but the ultimate responsibility will lie with the teams.
Drivers and personnel are expected to remain in their hotels on Saturday.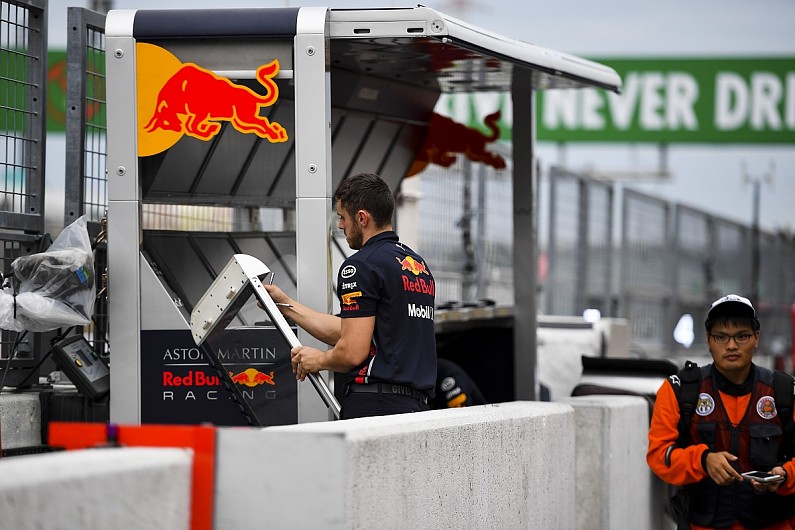 As soon as second practice finished, logistics personnel set to work packing away various equipment to be stored as securely as possible to try to minimise potential damage from high winds and flooding.
Typhoon Hagibis disruption
Garage panels at the front and back of garages are being taken down at all teams, with sandbags placed at the base to prevent water from entering, while most were preparing to deconstruct their pit wall set-ups.
Preparations are also being made to protect against power issues, such as surges, cuts or the consequences of flooding, by shutting down electricity.
Most of the equipment inside the garage was lifted from the floor so that it won't be damaged by flooding while hospitality furniture is being moved, hanging elements detached from all the walls in the garage and hospitality, and perishable food has been transferred. .
F1's broadcast centre is being taken down and moved into the garages in the pitlane.
Infrastructure within the paddock is being reinforced and several temporary structures, such as large television screens for the grandstands, will be taken down and rebuilt on Sunday morning.
Curfew started just after midnight, at 12:30, and will not end until 5am on Sunday.
The first two hours of it ending will be to allow staff to restore what has been dismantled on Friday.