Several Formula 1 teams have fitted Monza-specific aerodynamic packages ahead of the Italian Grand Prix, which feature low-downforce wings to reduce drag on the straights.
Monza requires a different approach to aerodynamic design compared to the other circuits on the F1 calendar due to its long straights and high-speed corners.
As a result, it is customary to limit the impact of the least efficient parts of the car - in particular the rear wing, which is made shallower to slash the overall frontal area.
Of the big three teams, Red Bull appears to have brought the shallowest wing in 2019 (below), with the mainplane's leading edge factoring higher up compared to Ferrari's design (above).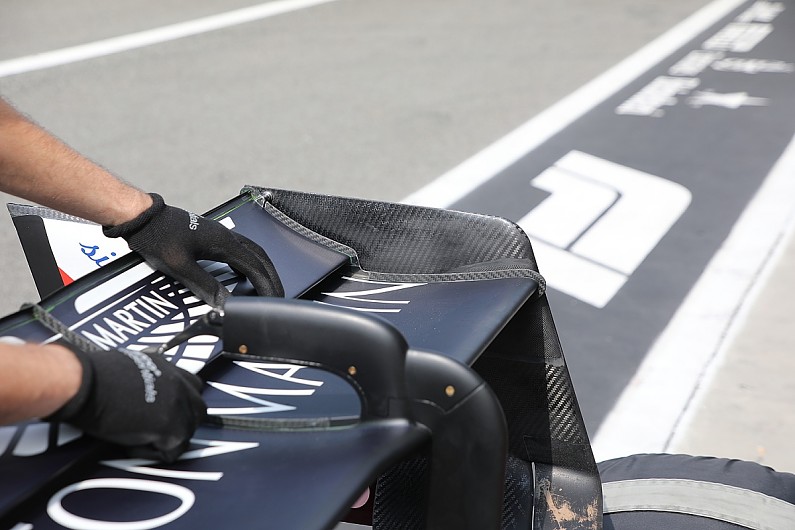 Toro Rosso has brought a novel new front wing (below), accentuating the low-drag outboard section by dialling in a significantly lower angle of attack for each element.
At the inboard section, the wing transitions to something more akin to its usual shape to retain the manner in which it creates the rotational airflow to be directed behind the wheel.
This is similar to how Haas has developed its front wing package for the Monza weekend, while Renault has gone its own way - retaining a deep-camber outboard section, where the central section is responsible for a reduced drag footprint.
Other measures spotted in the Monza pitlane include the removal of the T-wing at the back of the engine cover on all cars, while Mercedes has removed its halo winglets to cut any further drag.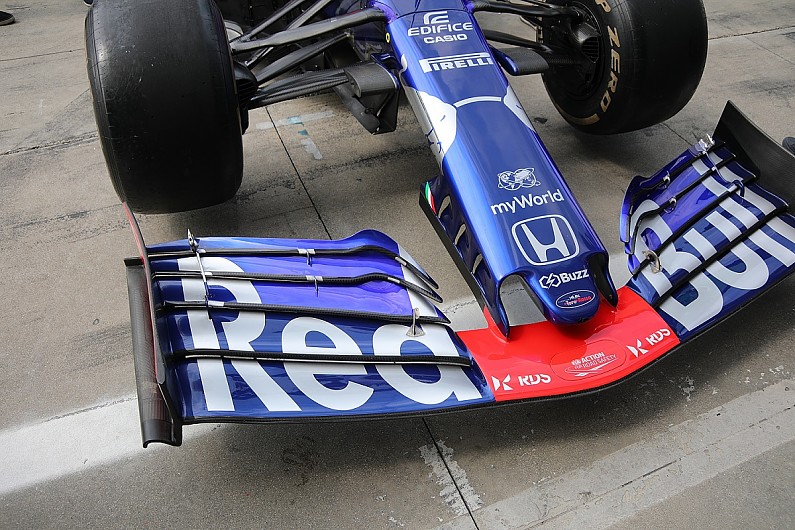 In a talk delivered during the Belgian Grand Prix weekend about developing a Monza-spec package, Ferrari sporting director Laurent Mekies explained some of the unique demands of the circuit that F1 designers must consider.
"Full throttle is around 75% of the lap, [and] the season average is around 60% so that's a huge step and makes you realise how specific the work is going to be here," he said.
"The average speed around the lap is 260km/h, [which] makes it the highest average speed of the year compared to our season average of 220km/h.
"When we think about Monza we think about things that are one of a kind and completely different compared to what we do elsewhere.
"It's different for aero, it's different for engines, it's different for brakes and different for car setup as well - because of all of this, it is the only track where we have a specific package."