The Italian Grand Prix has finally secured a new contract to remain on the Formula 1 calendar for five more years.
F1 unveiled a record 22-race calendar for 2020 last week, saying the contract with Monza - the only grand prix on the provisional calendar which was yet to conclude a new deal - was "being finalised".
On Wednesday and ahead of this year's race at Monza, F1 chiefs announced the Italian venue will host the grand prix until at least 2024.
The news was revealed during an event celebrating 90 years of Scuderia Ferrari and attended by F1 CEO Chase Carey and FIA president Jean Todt.
The 2020 Italian GP will take place on September 6.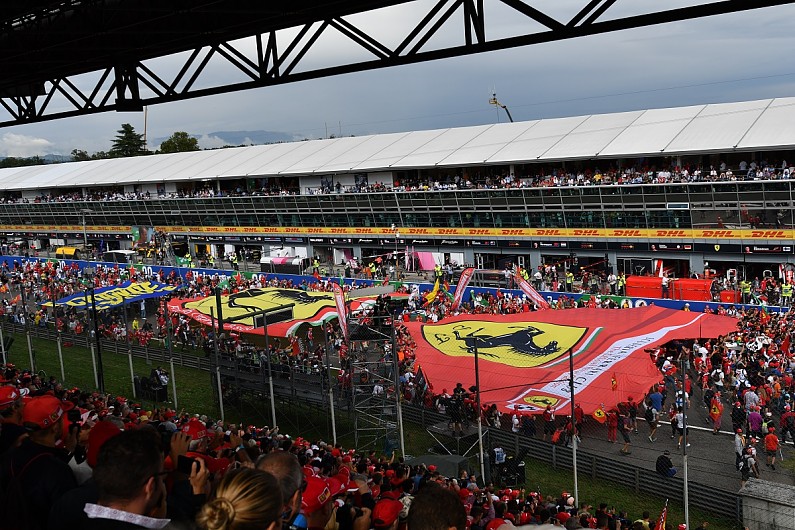 Angelo Sticchi Damiani, President of the Automobile Club d'Italia, said that finally securing the race's future felt like a big victory.
"It is just like winning a Formula 1 grand prix, a very hard and important one, fought to the finish line - which counts as not one but five titles," he said.
"It was a challenging journey to get to this outcome and is one of those race victories that makes us forget every risk, every effort, and leaves inside a great joy and an uncontrollable desire to celebrate."
Monza adds DTM race too
By Tom Errington
At the same time as Monza's new F1 deal was announced, the DTM revealed it would race at Monza for the first time in 2020.
While the series' announcement did not mention Misano, it is expected Monza will replace it as the Italian round - despite it being believed Misano had a contract for 2020 with clauses attached.
The DTM switched Misano from a night race to a traditional format for 2019 and had MotoGP rider Andrea Dovizioso race for Audi after Alex Zanardi's cameo for BMW in '18.
But it failed to generate better attendance or media interest and it put the round in doubt, further compounded by the success of fellow 2018 addition Brands Hatch this year.
The DTM's future conundrum
Autosport previously reported Monza was an alternative candidate for 2020 and it will now become the fourth Italian venue in the series' history after Mugello, Adria and Misano, with Italy seen as an important market by DTM boss Gerhard Berger.
"For motorsport fans all over the world, Monza is legendary," said Berger.
"The characteristics of the circuit promise wheel-to-wheel duels at high speeds as well as good opportunities for overtaking."
The full 2020 DTM calendar, including Monza's actual date, will be announced in October at the Hockenheim season finale.