The Formula 1 stewards will take no action against Sergio Perez over his Belgian Grand Prix final-lap defence that put Alexander Albon on the grass on the Kemmel Straight.
Red Bull driver Albon was attacking Perez's Racing Point as they ran up the long straight towards Les Combes on the last lap of the race at Spa.
As he approached the rear of his rival's car, Albon moved right to squeeze by, but in doing so he put the wheels on the right-hand side of his car on the grass as Perez appeared to briefly move across the line.
Albon was able to get ahead of Perez and went on to finish fifth in his first race for Red Bull.
Both drivers were summoned to the stewards to explain the incident, but the officials decided no further action was necessary after reviewing the video evidence and speaking to both Perez and Albon.
An official FIA bulletin explained that "Perez said he had not realised Albon was moving to overtake on the right as earlier he thought he would overtake on the left".
It continued: "Albon achieved an initial overlap with all four wheels on the track, but as Perez moved to his right Albon put two wheels on the grass verge.
"Albon kept on with his overtaking move. Perez said when he knew he was on his right he moved to his left. Albon successfully overtook Perez.
"Each driver described it as hard racing and agreed there was [a] potential danger.
"In view of the explanations and the successful overtaking move it was considered there should be no further action."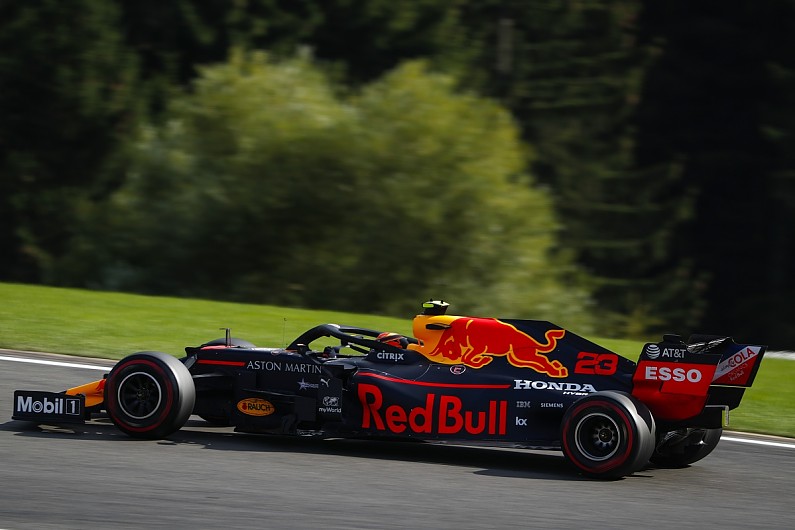 When asked about the battle with Perez by Autosport, Albon said: "We went into the Bus Stop and I knew I had a big pace advantage, so I was debating 'do I do the overtake at the Bus Stop and hope he doesn't get me by the straights?' - because the Racing Points have been so quick this weekend on the straights - 'or do I overtake him down the main straight?'
"So I went for the Bus Stop, we were kind of side by side, he cut the Bus Stop, but he didn't really have any space to go anywhere else.
"And then it was kind of that thing where we were both waiting to get to the DRS line second [on the run out of La Source] - we [both] wanted the DRS.
"It felt like a virtual safety car restart - we were both waiting for each other to cross the line, and he crossed the line first, so I got the DRS.
"I was on the grass all the way down the straight - it was good fun, I enjoyed it."