Charles Leclerc says he cannot "fully enjoy" his first victory in Formula 1, after dedicating his Belgian Grand Prix win to the late Anthoine Hubert.
Leclerc started karting alongside Hubert, the Renault F1 junior who lost his life in a Formula 2 crash at Spa on Saturday.
After ending his wait for a maiden F1 win, Leclerc immediately dedicated the victory to the 22-year-old Frenchman.
"On one hand, I have got a dream I've had since being a child that has been realised," said Leclerc.
"On the other hand, it has been very a difficult weekend since yesterday.
"We have lost a friend first of all. It is very difficult in this situation.
"I would like to dedicate my first win to him.
"We have grown up together. My first ever race I did with Anthoine when we were younger, there was Esteban [Ocon], Pierre [Gasly].
"It is just a shame what happened yesterday.
"I can't fully enjoy my first victory, but it will definitely be a memory I will keep forever."
Leclerc qualified on pole and led early on, before briefly slipping behind Sebastian Vettel after his team-mate benefited from an early stop for fresh tyres.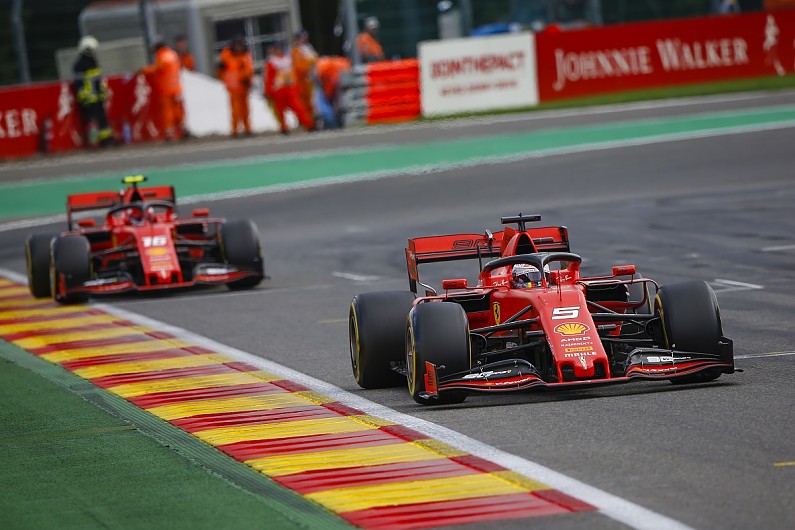 However, Ferrari reversed the decisions once Leclerc had made his pitstop, and he looked as though he was on course to win comfortably before Hamilton slashed the gap late on. 

"It was a very difficult race, we were struggling quite a lot with the tyres at the end," said Leclerc.
"But a lot happier than what I'd done in Budapest, I managed the tyres better.
"The end of the race was definitely not easy, he [Hamilton] was catching [me] very quickly.
"I had quite a bit of pressure, but happy I kept him behind."
Hamilton missed out on another win by 0.9s but said Leclerc was a deserving winner.
Leclerc was robbed of his first win by an engine problem in Bahrain and was overtaken by Max Verstappen late on in Austria.
"I gave it absolutely everything that I had," said Hamilton.
"A really difficult race today, the Ferraris were too fast on the straights, and it was very, very hard to keep up with them.
"I got as close as I could at the end, maybe we needed a few more laps today.
"But, nonetheless, congratulation to Charles, his first win.
"He has had it coming all year so I am really happy for him."
Ferrari junior Armstrong "deflated" after F3 win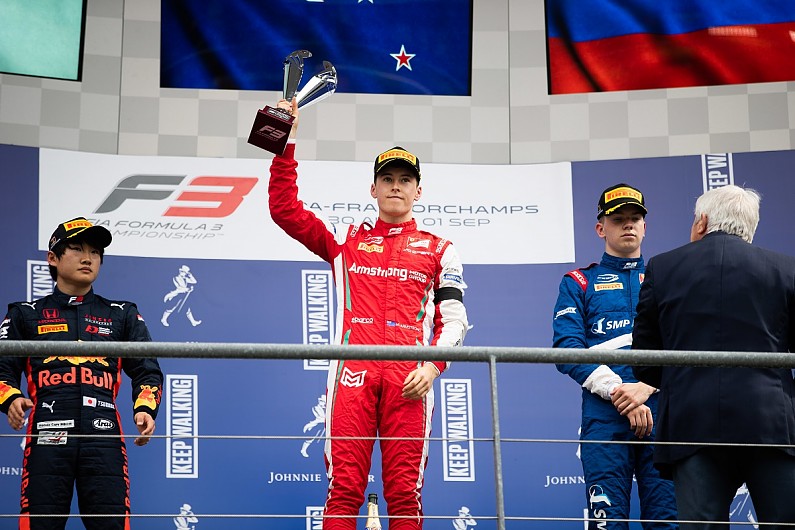 Ferrari junior driver Marcus Armstrong had won the morning's FIA Formula 3 race, but said he had never felt "this deflated after a race win in my whole life".
Armstrong delivered a textbook drive from pole position for his second win of the season, but he and his fellow F3 podium finishers did not celebrate in parc ferme following Hubert's death.
"I know that it's not right to celebrate after what happened and I didn't feel the need to celebrate," Armstrong told Autosport.
"I've never been this deflated after a race win in my whole life.
"The radio, I said on the radio, 'This one's for Anthoine', and then we kept the celebrations to a minimum. Just out of respect for the family.
"I was at the front of the ceremony [minute's silence held before the race] and I could see his mum and his brother holding the helmet and I was quite choked up to be honest so I can only imagine how I would feel if I knew him personally."