Sebastian Vettel thinks it is "not fair" that Mick Schumacher's career is compared to his seven-time Formula 1 world champion father Michael's, and believes he must be allowed to develop.
Schumacher currently races in Formula 2 - where he currently lies 14th in the standings with the Prema team - and was also signed to the Ferrari young driver academy at the start of this year.
Amid talk of the Schumacher name returning to F1 in the future, something that could also boost the chances of the under-threat German Grand Prix staying on the calendar, Vettel has urged caution against expecting too much too soon from the F2 racer.
"I think it's crucial that he's given the time he needs," said the Ferrari driver.
"I think it's fair to judge him and his racing like every one of us has been judged and will be judged, but it's not right to measure and compare too much to other people and to his father.
"I don't think it's fair. It's a different time, different racing.
"Michael was the one who set off a huge hype when we were kids and therefore the name Schumacher is 100% known in Germany due to him.
"Obviously to have Mick at the doorstep of F1 and one day hopefully joining would be huge and hopefully a big boost for Germany.
"On top of that, despite the name, he's a great guy, he's a nice kid so I think our fingers are crossed for him."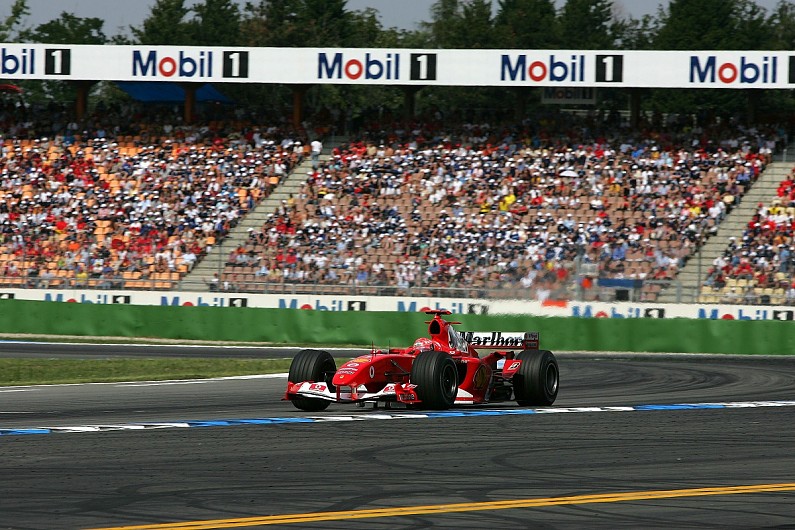 This weekend at Hockenheim, Schumacher will driver his father's last title-winning Ferrari F1 car - the F2004 - in a special demonstration.
Hailing the machine as a "symbol of great times" for Germany in F1, Schumacher said the experience will be "pretty amazing".
"I think it will be special," said Schumacher, who drove Michael's 1994 Benetton at Spa last year.
"I have a lot of good memories of Hockenheim, particularly from winning the F3 European Championship there last year, and to drive this car around there on a grand prix weekend is pretty amazing.
"I'm already very excited. I just hope everybody will have as much fun as I will.
"The F2004 is a symbol of great times for F1 in Germany, and I imagine that some of the spectators will have flashbacks to those times.
"I will do my best to help spark those good memories and I'll try to make sure that everybody has a great time."