Valtteri Bottas believes his unexpected defeat by Mercedes team-mate Lewis Hamilton in the 2019 Formula 1 British Grand Prix masked improvements he has been making to his driving technique.
Bottas qualified on pole at Silverstone and led the opening stint, but his tyre choice committed him to a two-stop strategy and Hamilton was able to usurp him with an unfavoured one-stop strategy.
This appeared to confirm that Hamilton's ability to manage his tyres confers an advantage over his team-mate.
But Bottas says he has been learning from Hamilton's data and is now on par in this key facet of a Formula 1 driver's skillset - and that victory could have been his at Silverstone.
"We definitely can point out those kind of details from the data," he said.
"If Lewis has had better tyre management, better pace in a longer stint it's always very visible and I can learn from that. Definitely my race pace, tyre management is something I've been working on hard. I think Silverstone was a lot better than some of the races before.
"I'm always watching, always learning, and again for this weekend [in Hockenheim] there are very clear goals on the first long runs we do, things I need to focus on and improve, thinking about Sunday."
Bottas has spoken previously about how he has been using Hamilton's data to conquer his shortcomings.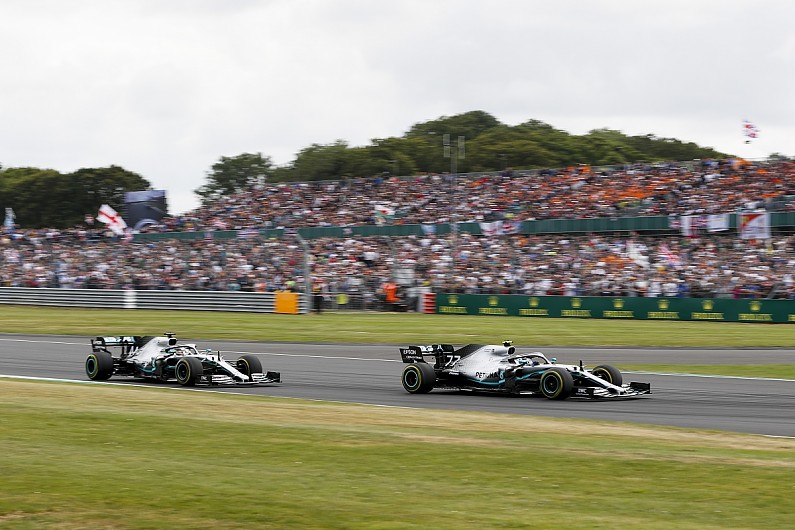 At Silverstone he lost track time during second practice with a car problem, which compromised his long-run plan.
During the race both he and Hamilton started on the medium-compound Pirelli tyres, but while Bottas took a second set of mediums on lap 16, committing himself to another pitstop, Hamilton ran three laps longer before fitting hard-compound tyres he was able to nurse to the end.
At the time it appeared Hamilton had managed his tyres better in that crucial opening stint, but Bottas claims this is not the case.
"I did miss some of the long running in Silverstone but obviously we could see from FP1 where we did something, we could get a bit of a reference there," he said.
"And also Lewis's data, we could see how he was saving tyres and so on. I don't think it was a big deficit for me.
"The first three laps, I was really thinking about those learnings from his long runs and trying to optimise my driving for the first stint, but it became a bit of a fight between me and Lewis so there was less tyre saving than expected.
"But the good thing I'm very happy to see is that after the first stint, if you compensate for the three laps more Lewis did, my tyres were in a better condition, so I did a better job in the first stint.
"That's why I'm very confident that my performance overall, pace and tyre management, would have been enough to win the race. That's a big positive. I just need to keep that up."