Max Verstappen reckons Charles Leclerc was so robust with his defensive driving in the British Grand Prix because he was 'still sore' over their clash in Austria.
The Red Bull and Ferrari drivers fought wheel-to-wheel for the first time at Silverstone since their controversial incident at the Red Bull Ring two weeks before.
With Leclerc having vowed ahead of the weekend to drive more robustly after Verstappen escaped a sanction for their clash in Austria, there was no quarter given as he held off the pursuing Red Bull on multiple occasions at Silverstone, including going side-by-side in the pitlane after both had stopped.
Speaking about their battles, Verstappen said he had no problem with how tough Leclerc had been - as he reckoned there was a reason things were so fraught.
"I think he was a little bit sore still from Austria so he was defending really hard, but it's fine, I'm all for that," explained Verstappen, whose hopes of a podium finish were ultimately dashed by a collision with Sebastian Vettel and he had to settle for fifth.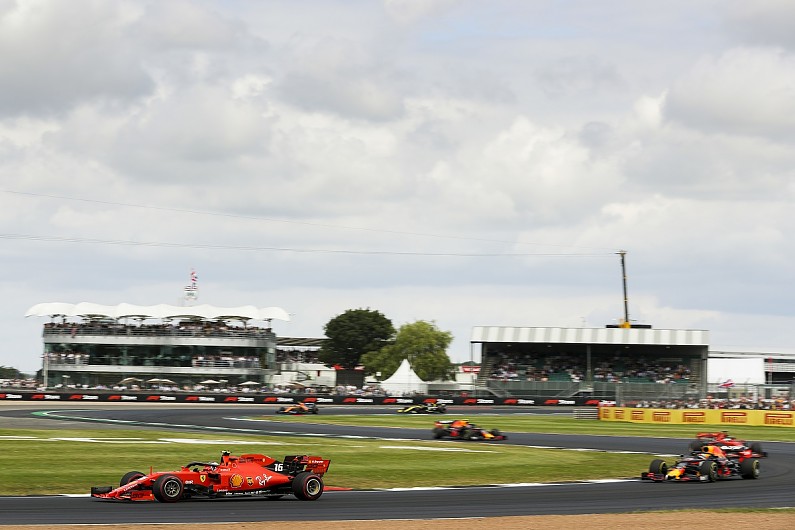 "I didn't want to take too much risk in those battles to damage the car, because I knew we were quite a bit faster.
"So I just needed to pick my moment, but then luckily the team did it for me with a good strategy, and then it was all looking good of course for a good result."
Verstappen said part of the reason for the battle with Leclerc lasting so long was that the Ferrari had a straight line speed advantage.
"They had just enough top speed to stay in front of us, and at these moments my battery was not charged enough," he said.
"So you just have to wait for the right moment."
Despite one off-track moment, as Leclerc and Vettel clashed at the Club complex, the pair did not make contact and the FIA did not consider getting involved.
Asked if he hoped stewards would continue to let drivers battle like he and Leclerc did, Verstappen said: "[It[ would be good, yeah. I think it was nice racing."
Leclerc scored a podium for Ferrari, behind the Mercedes of Lewis Hamilton and Valtteri Bottas.