Daniel Ricciardo has no regrets over his Renault move despite Red Bull's first win with Honda, because his former Formula 1 team is "still a fair way from the title".
The seven-time grand prix winner left Red Bull after the 2018 season to spearhead Renault's works team, but is only 10th in the championship while the French manufacturer even trails its engine customer McLaren in the constructors' standings.
Ricciardo also had doubts over Red Bull's switch to Honda engines for 2019, but the team scored its first win of the year at the previous race in Austria, where Renault endured one of its worst weekends of the season.
Asked if he regretted his move, Ricciardo said: "No. Honestly, no regrets.
"By that time last year, Red Bull had three wins. That was the first.
"Obviously I'm further back at the moment, absolutely, but I expected this and if I stayed at Red Bull it was to win a title.
"Sure, they got the win last weekend but they're still a fair way from the title. That's not having a dig, that's just the reality.
"So I don't think I would necessarily have achieved anything else than I was already achieving there, so for that, no regrets."
Ricciardo has scored points in three of the nine grands prix so far this season, registering a best finish of sixth in Canada.
Renault's target for this season was to break clear of the midfield battle and establish itself as a clear fourth-best, but its form has fluctuated over the first half of the year.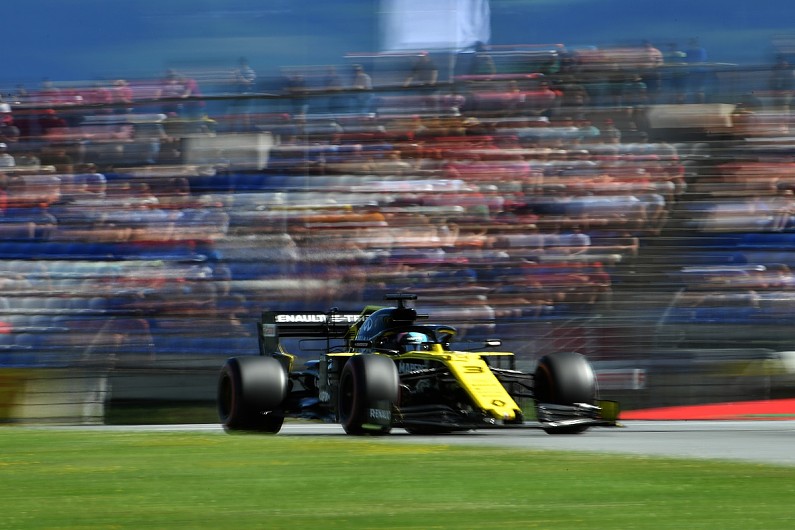 "Absolutely there's still a lot of work to do," said Ricciardo.
"But equally it's pretty fulfilling when you do get a little bit of a result and Montreal was one of those moments.
"Even that result alone made the first seven or so races worth it. The little bit of struggle and ups and downs."
Ricciardo also said he was happy for Red Bull for Max Verstappen's Austrian triumph, as well as F1 after the exciting conclusion in which Verstappen caught and passed Charles Leclerc's Ferrari.
"Part of me was pretty happy for them, and for F1 to just have a good race," said Ricciardo.
"It went through a lot of scrutiny after France, so just for the sport to have a good race was awesome."
He added: "I'm very happy that the last race went the way it did and hopefully there's more like that.
"Hopefully I'm not running in 12th, or wherever I was, because that's also not fun!
"But hopefully the battle at the front gets close and says close."