Renault's Nico Hulkenberg says following another Formula 1 car is as hard as it has ever been, despite the championship's efforts to improve overtaking.
Simpler front wings, bargeboards and brake ducts, plus a simpler and wider rear wing, were all introduced in the 2019 package so cars could follow more easily, and the changes were also designed to increase the effect of F1's drag reduction system.
The FIA's head of single-seater technical matters Nikolas Tombazis had claimed early in 2019 that simulations had suggested overtaking could be improved by as much as 50% at certain circuits, with gains of 10% at others.
But after encouraging responses from some drivers early in the season, Hulkenberg says following is the worst it has ever been.
"I feel it's as bad as it's ever been, to be honest," said Hulkenberg, when asked by Autosport about the difficulties of getting close to other cars.
"Especially if you get really close, maybe five tenths [behind]. If the guy in front of you has a wobble and makes a mistake, the sudden loss of grip you experience is sometimes drastic, and you're just forced to get off the throttle or you're going to go off.
"It's really like hitting the Chinese wall or taking the ground from below your feet."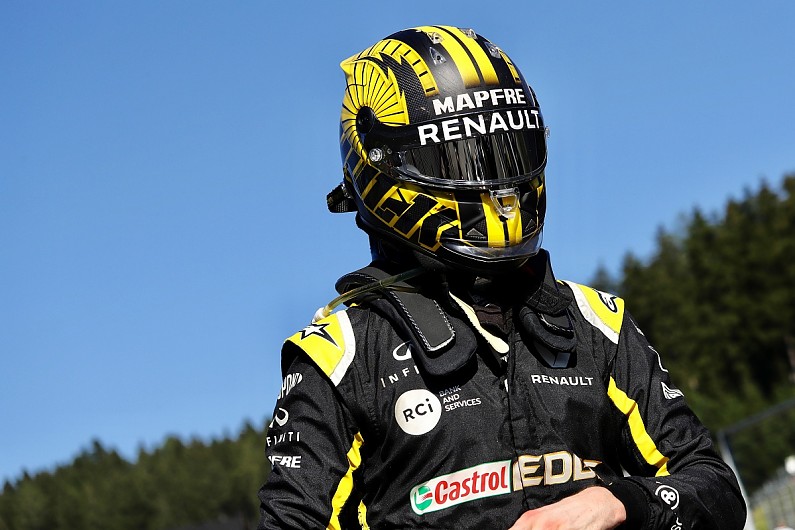 Hulkenberg added that to improve the situation F1 would need a "different concept" such as the overhaul slated for 2021.
While Lewis Hamilton recently cautioned that the 2021 rules package was "nowhere near where it needed to be", Hulkenberg - who joined Hamilton to represent the drivers in a recent summit in Paris - was more optimistic.
"I don't specifically know what he [Hamilton] means but I think the technical rules are heading in the right direction and for me, the biggest subject is really pinning down the aero regulations in the right way so that we can have good, close, clean racing," said Hulkenberg.
"Everyone in that meeting really understood that and it seemed as though they wanted the same because, at the end of the day, racing and a good show is what sells Formula 1 and produces good entertainment. So I'm not quite sure what he means or wanted."