Prototype 2020 Formula 1 tyres could be used in races at the end of this season following the failed bid to trigger a mid-season change to last year's specification.
Mercedes' dominant form and the struggles some teams have had to get the thinner-tread 2019 tyres into their working range led to an attempt to reintroduce Pirelli's thicker-gauge 2018 rubber.
That was not approved at a meeting between F1 teams and stakeholders on Friday morning at the Red Bull Ring ahead of the Austrian Grand Prix, but other options were discussed.
F1 regulations permit Pirelli to supply teams with two sets of prototype tyres for using during practice ahead of a grand prix but, following Friday's meeting, that could evolve into an unprecedented step at the end of the year.
"There was also the discussion to slightly change the regulations to understand if different tyres can be used during the race weekend, not just in free practice," said Pirelli F1 boss Mario Isola when asked by Autosport about the introduction of 2020 tyres.
"This is a completely new idea and it has to be evaluated and discussed and the FIA should come with a wording to propose.
"But we are open to evaluate that and we will continue our development test for the next weeks.
"If we also have the opportunity [to run the tyres in a race weekend] it is a good opportunity to test the product for next year during the season."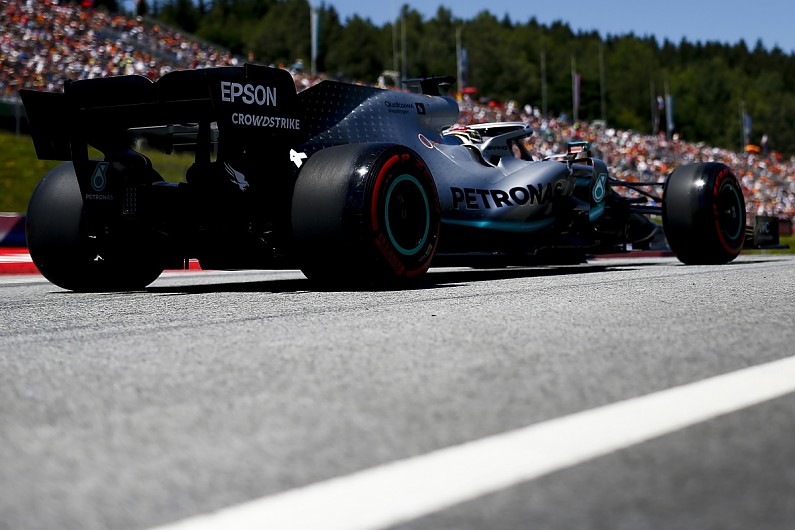 The exact process needed for this to happen is unknown and, given teams were split on changing tyres mid-season, it is not a guarantee that it would receive full support.
However, Mercedes team boss Toto Wolff indicated he would be in favour of experimental 2020 tyres at the end of the year.
One reason this would be different is that several teams that were against reintroducing the 2018 specification were concerned about the impact it would have with tyres blistering and overheating.
Theoretically, Pirelli's prototypes would still combat those problems but have a wider working range than the current tyres.
"If Pirelli is capable of producing 2020 compounds early, then we will use them for example on a Friday," Wolff told Austrian journalists on Friday.
"And if these compounds turn out to be better, then we may even use a new prototype tyre in races for the last two or three GPs."
Wolff said he was sure that Pirelli would be able to solve the problem of cars with too little downforce being able to get the tyre into the right performance window.
Further 2020 tyre testing takes place next week at the Red Bull Ring and again at Silverstone after the British Grand Prix.
Isola stressed that introducing prototype tyres was just an "idea" at this stage.
"We will continue the discussion in the next days and maybe we come with a proposal for Silverstone, or something like that," he said.