Romain Grosjean will be able to switch to the Haas Formula 1 team's new rear suspension from the Austrian Grand Prix thanks to retiring in France last weekend.
His team-mate Kevin Magnussen had the new rear suspension from the Canadian GP earlier in June, but fitting it required changes to the gearbox - a section of the car that has to be used for five consecutive events.
That meant that without being retired from the Paul Ricard race, Grosjean would potentially have been stuck with his existing gearbox and therefore the original suspension until the summer break.
Grosjean believes Haas has found some answers regarding its recent run of form, and he and Magnussen will run different set-ups on Friday in Austria as the team continues to seek solutions.
His suspension change means the cars will now be mechanically the same, allowing the team to focus on aero and set-up changes this weekend.
"There are things that are not as we were hoping, and things that are better than we thought, and we just need to make sure that the weaknesses we have, we assess them," said Grosjean when asked about Haas's progress by Autosport.
"There's a lot going on, a lot of testing that we're going to do here, a lot of different set-ups.
"Obviously we know we've been struggling with the tyres. At one point it's easy to say it's the tyres, but we just need to get the cars to work the tyres, and that's what we're aiming to do here."
Regarding the approach the team will take in Austria, he said: "We're just trying different things, then in free practice we're probably going to try one option on one car, and another option on another car.
"When you don't have any testing, that's the only chance you have.
"At least here it's warm, so it's going to be consistent through the whole weekend. Hopefully we can have a few answers."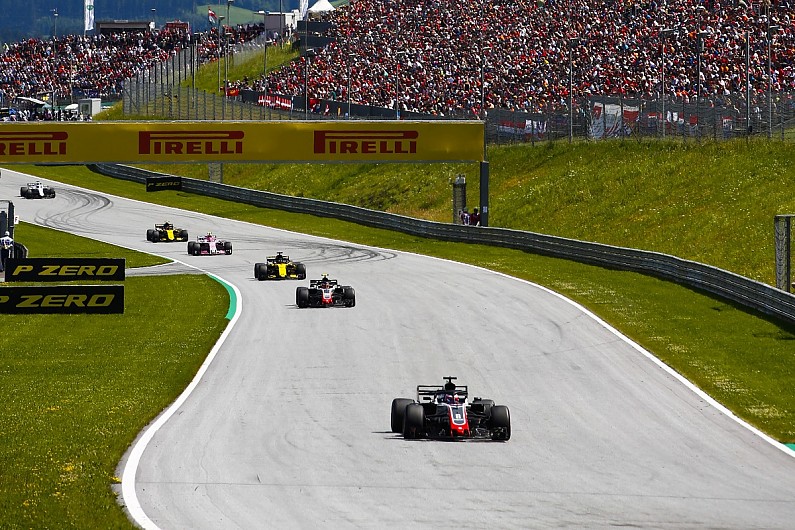 Haas has been competitive in Austria in recent years - finishing fourth and fifth with Grosjean and Magnussen last season and sixth with Grosjean in 2017.
But both drivers were unwilling to make predictions for this weekend given the team's changeable 2019 form.
"There's a little bit of a sense of uncertainty, because we don't really know what to expect," said Magnussen.
"We know we've got a good car, aerodynamically, and a car that can perform well sometimes.
"But then we found ourselves in situations where the car isn't performing at all, and we can't really point at the problem. It's very confusing.
"We all talk about tyres and stuff, and it is a bit confusing as to why we are so strong sometimes, and we've been on track which looks the same as say Barcelona, where we were strong, and we struggled sometimes.
"It's not like you can find a trend and zoom in on the problem. It's a little bit confusing.
"It's easy to say that the tyres aren't working, but there's got to be more to it than temperatures and stuff."