Nico Hulkenberg thinks the Paul Ricard circuit brings the worst out of Formula 1 because its long medium-speed corners are the hardest type for enabling cars to follow each other.
A disappointing French Grand Prix - featuring a lack of drama at the front and little real excitement before Lando Norris got engulfed by a swarm of cars on the final lap - left F1 facing more accusations of being boring.
Hulkenberg finished eighth after a frustrating afternoon trapped behind Alfa Romeo's Kimi Raikkonen for almost the entire race.
The Renault driver suggested the problem was that Ricard's layout exacerbates the problems with the current F1 designs.
"They are fast, they are spectacular, but the problem is you can't get close to a car and this is one of the worst tracks for it," said Hulkenberg when asked about the poor spectacle by Autosport.
"It's always third/fourth gear and the speeds are quite high. so the aero effect is just massive. That's what I spent one and a half hours experiencing.
"But I think for the 2021 rules that hopefully will be addressed properly. Hopefully we can have a track like this but with much better racing."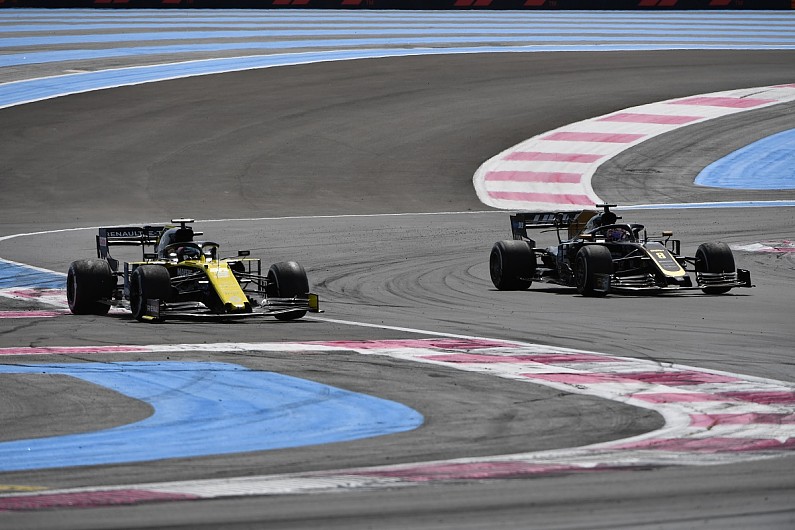 Hulkenberg's team-mate Daniel Ricciardo reckoned new asphalt surface that had been put down at some corners for this year's race made matters worse.
"It was tricky," said Ricciardo about overtaking chances. "For Turn 8, at the end of that DRS, you brake so late that unless you're really kind of alongside or there, it's really hard to make a big lunge.
"And also with this new Tarmac, if you do go off line, if you're carrying too much speed, then you're never making the corner.
"So it does make the track very one-line, and that was difficult as well for overtaking."
Asked if he agreed with his team-mate's view that the circuit characteristics brought the worst out of F1, Ricciardo said "It is tricky. There's a lot of long corners and, as you say, you're in those medium-speed corners where you struggle so hard to stay close to a car, and the first few laps there, when I was behind the guys on softs, I was just killing the tyres.
"It was my fault for putting myself out of position at the start but, yeah, it does make it tricky for racing.
"So, a tough one, I know they've got so many [circuit layout] variations here, maybe they could look at something else."