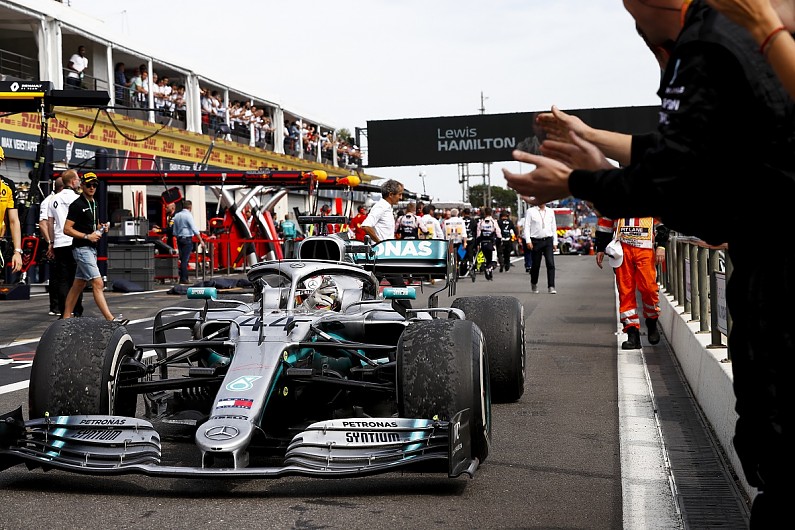 Lewis Hamilton said he feared a repeat of Lance Stroll's spectacular 2018 blowout after suffering from "quite big blisters" on his front tyres during the French Grand Prix.
Hamilton dominated the race at Paul Ricard, beating team-mate Valtteri Bottas by 18 seconds as he extended his championship lead to 36 points.
However, Hamilton - who reported something broke on his seat during the race - said it "wasn't easy at all".
"There's always things happening, everything's on the edge with these cars," he said immediately after the grand prix.
"Everything's running to a temperature, everything is about wear, everything is about reliability.
"So I was saving the engine and fuel where I can. I was looking after the tyres.
"I had quite big blisters on the front two tyres.
"I remember last year Lance had a tyre blowout. So I was a little worired about that.
"But this has been the best start to the year, so I've got to enjoy it."
Despite his concerns, Hamilton set a new lap record on the final lap of the race in pursuit of the bonus point for fastest lap.
He missed out by just a few hundredths of a second after Sebastian Vettel went even quicker moments later, having pit for a fresh set of soft tyres.
Asked by Autosport to explain that late push, Hamilton said: "I asked if anyone else was having blistering and they didn't reply that Valtteri or anyone else was having the same.
"So I was a little bit nervous, particularly as started getting quite deep on the right side. And then it appeared on the left side.
"I basically reduced a bit of my speed for a period of time where I wasn't really leaning too heavily on the front tyre.
"Right at the end the car is at its lightest and it's only one lap, so I went for it and pushed a little bit more, but not really taking the cake.
"Fortunately it all held together."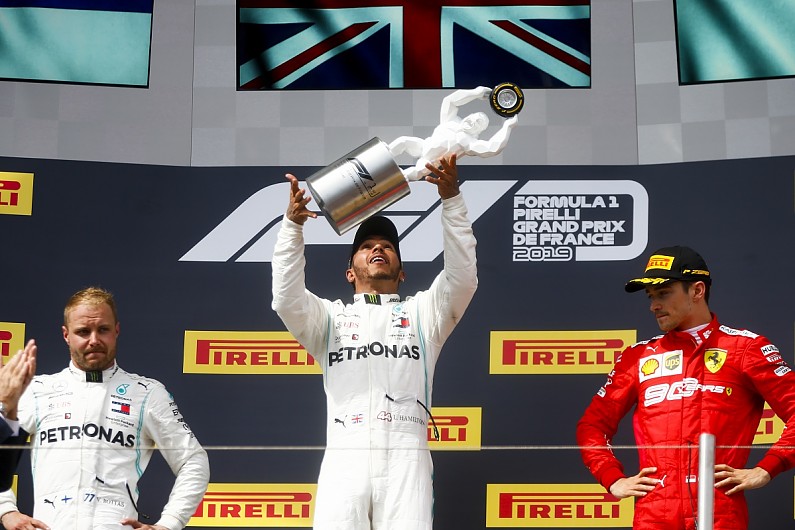 Hamilton's third victory in a row takes his tally to six wins from eight grands prix in 2019.
Bottas admitted he simply did not have the pace to match Hamilton and was almost pipped to second by Charles Leclerc after struggling with blisters of his own.
"We were a little bit concerned and wanted to be on the safe side and make it to the end without any failure on the front tyres," said Bottas.
"I had to take care of the fronts a lot in many of the corners. I lost chunks of time just managing and being on the safe side.
"That's why it came a bit closer with Charles, closer than we wanted."
Asked where his five-time world champion team-mate was pulling extra performance from, Bottas said: "It's something I need to have a look at. He was really strong and consistent today.
"He's not unbeatable. I know that. I just need to work hard."