Kevin Magnussen admits Haas Formula 1 team boss Gunther Steiner did well to "shut me up" during his Canada radio outburst, as he addressed the intervention for the first time.
After Magnussen stated in a radio message during the Canadian Grand Prix that he was enduring the "worst experience" he'd ever had in a racing car, Steiner told him "enough was enough" in response.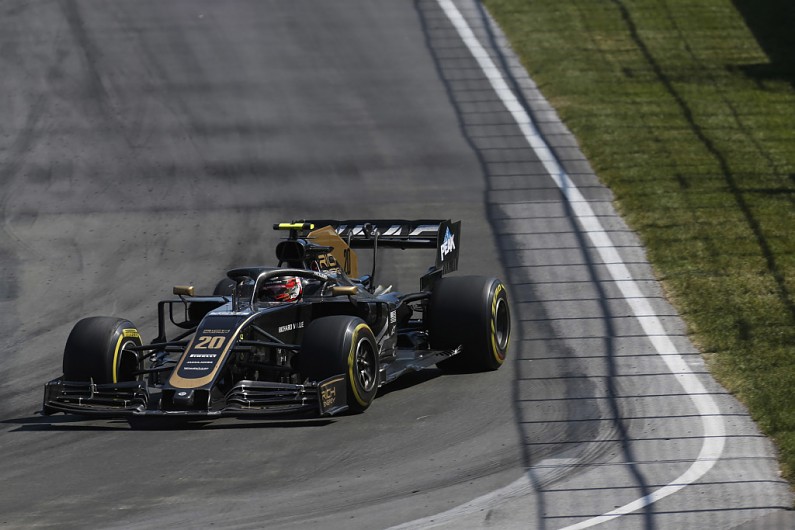 Following his qualifying crash, Magnussen started from the pitlane with a set-up gamble that didn't pay off, and he struggled to a lowly 17th.
"He didn't tell me off," Magnussen, who apologised to his crew for his outburst on his in-lap in Canada, said when asked by Autosport about Steiner's intervention.
"You should hear when he tells me off! I think Guenther knows me very well and I don't complain very often. When I do it means I'm very, very frustrated.
"He knows that, so I think he did well to just shut me up and make sure I didn't go crazy. I was about to eat the steering wheel. It was very bad at that moment. We were helpless in the race, so it was better to just get on with it and talk about it afterwards.
"I realised my message sounded more offensive to the team than I meant it to be. I think I assumed that people understand we have a good car, and that the only thing that holds us back is us not being able to work the tyres right."
Magnussen stressed "there's no ground for me to criticise the car at all", which he branded as "clearly very good", and that his outburst was more a result of the tyres not working for him.
However, he also conceded he had "never felt like retiring" from a race as much as he did during his Canadian GP struggle, which he called a "hit in the face" for himself and the team.
"I never felt like retiring as much as I did that race," he added.
"Not only for me, but for the team that is doing such a good job with the car we have, and have produced such a great car.
"And made huge steps in other areas, when you look at the car the quality of the build and the parts is just very, very good.
"I see all this progress in the background because I'm part of the team, and you guys don't get to see that.
"And when we find ourselves in the situation like we did in Canada it's like a hit in the face to not only me, but the whole team.
"I feel sorry for them because they are doing such a good job, and it doesn't show on the race track."
Autosport has produced a standalone special magazine to celebrate our 70th birthday. All current print subscribers will receive a copy for free. To order your copy of the 196-page Autosport 70th Anniversary issue, please go to: autosport.com/autosport70th