The Racing Point Formula 1 team went from losing both cars in Q1 at the Canadian Grand Prix to achieving its first points since the end of April, in unlikely circumstances.
Racing Point's scoring drought had coincided with the introduction of the first major upgrade package of the team's new era at Barcelona.
The team had expected the Montreal track - home event for both the team's saviour Lawrence Stroll and his driver son Lance - to suit it better than recent venues.
After a tough Saturday, it looked unlikely to be the scene of a turnaround. Stroll suffered a failure of Mercedes' new engine at the start of practice three and had to revert to the older specification and was only 18th fastest in qualifying. Team-mate Sergio Perez, just two places ahead, fared little better.
But Stroll went on to finish ninth in the race in what team principal Otmar Szafnauer called "a bit of a boost" that "shows we can race well, like in the old days".
Stroll started on the hard tyre, jumped to 14th with a strong getaway, then stayed out until lap 45 of the 70 lap race and ran as high as eighth before coming in for mediums.
Having dropped only two spots he subsequently passed Carlos Sainz Jr in the closing laps to claim ninth.
"I just put all my emotions on the table, it was just balls out," said Stroll.
"I loved every minute of it, and was fully committed from lap one onwards. It was a great race, and one I'm going to remember.
"Actually a lot of the job was done on track, pace, passing, aside from the start. That's what I'm really pleased about, we had to work for it, and we got it done.
"Everything considered, the engine blow-up really put us on the back foot, no running in FP3, we took a hit in terms of performance for qualifying and the race, and we still managed to grab two points, which is fantastic."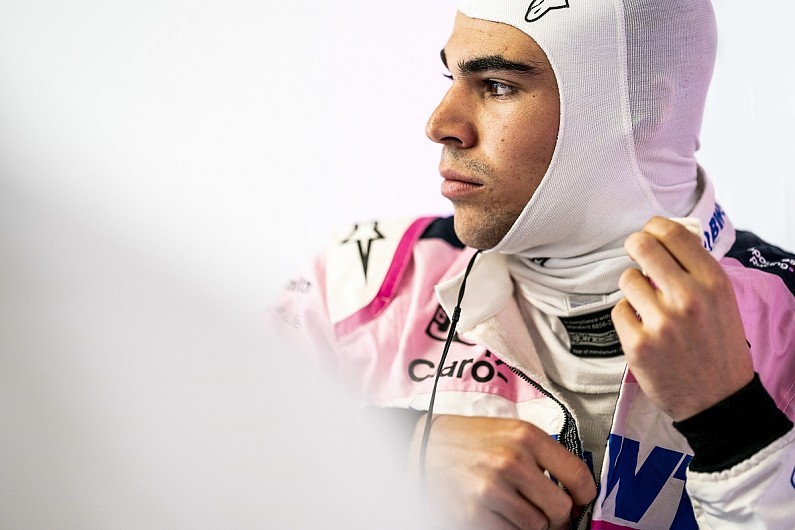 Team owner Lawrence Stroll admitted that the result came as welcome boost after the recent disappointing run.
"The whole team needed it, everybody needed it," he told Autosport.
"I could not be happier. We brought a few things, we know this car suits this kind of track better, so we were really hoping to have both cars in Q3.
"We had higher expectations before the engine blew in FP3, and then that put us on the back foot, having to take an old engine.
"With the new engine, we probably would have been in Q3, or close to knocking on the door. That was disappointing.
"But a superb drive in the race, flawless."
While Stroll scored points, his team-mate Sergio Perez finished only 12th despite qualifying two places ahead of the sister car.
That was because the split strategies - agreed by the drivers - ended up working in Stroll's favour.
Perez started on medium tyres and made his pitstop for hards on lap 11. That dropped him into traffic, and high brake temperatures and a flat-spotted tyre compromised the rest of his race.
"It was a very frustrating afternoon," said Perez when asked about his poor result by Autosport.
"Early on [Daniil] Kvyat was struggling ahead of me, and I only had two laps before I had to look after my brake temperatures.
"As a team we maximised what we could from where we started, to be able to get a car in the points is good for the team, but personally it was a bad day.
"It's always after the race you know which is the right strategy. We had to take some gambles and it paid off for Lance and the team, so we can be happy to get those two points.
"But other than that we have to improve to be further up the grid."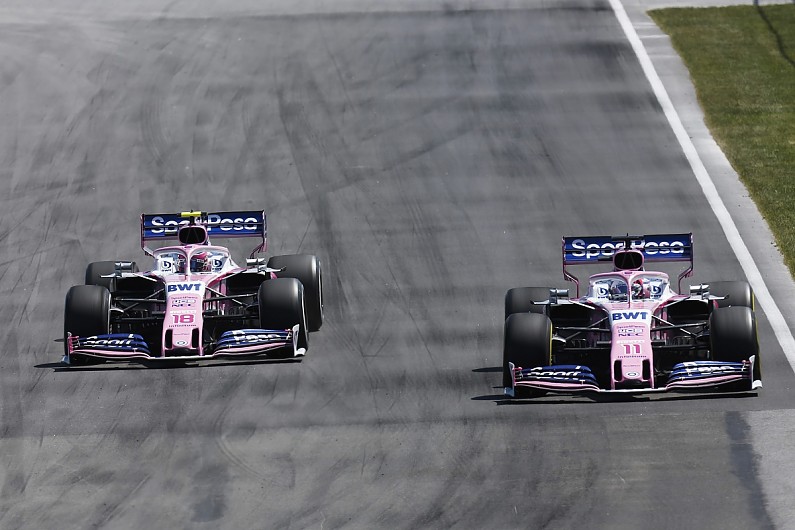 Perez underlined that he was happy with the original strategy decision.
"We spoke and we thought the best was splitting the cars before the race," he said. "We didn't see an advantage for them so it was more of a gamble."
Szafnauer said with both cars near the back it was logical to follow different routes.
"It's hard to predict the future and to know what others are doing," he told Autosport. "We thought both strategies could work.
"Everybody talked about it and they said, 'I'd rather do this, I'd rather do that,' and they were both happy with it.
"Checo [Perez] was starting a little bit ahead of Lance too, and the option [softer] tyre versus the prime gives you a better start. All that goes into consideration when you chose."
Szafnauer remains confident that the team can extract more from the aero package that was introduced in Spain, saying Racing Point was taking time to optimise it.
"A lot of it is tyres, a lot of it is aero that has an influence on the tyre," he said.
"It has taken some time to understand it, and after this race we'll have an even better understanding.
"We did some experiments on Friday, and we gathered some more data in the race, so we'll get better.
"New bits are coming, we wait a while and learn, get feedback and then move forward. We've got to get that right."