Formula 1 world champion Lewis Hamilton says he would have done the same as Sebastian Vettel in the Canadian Grand Prix had their positions been reversed.
Vettel received a five-second penalty for rejoining the circuit unsafely and forcing Hamilton off the track after he went wide over the grass in their battle for the Montreal lead.
The penalty meant Hamilton just had to sit behind the Ferrari to the flag in order to pick up his third straight win.
Asked by Autosport for his view on Vettel's driving, Hamilton replied: "I watched the replays. It's obviously very close.
"What I can say is if I was in the lead and I made a mistake and went wide, I probably would have done the same thing.
"It happens so quick, and you're just trying to hold position. And when I say I'd do the same, I would have tried to squeeze him too.
"That's ultimately what happened. So my opinion on that has not shifted.
"Regarding the rules, say you didn't have that rule, I would have kept it lit, and we would have crashed. One way or not it was going to go badly."
Asked about his radio comment at the time - when he told his engineer that Vettel had rejoined the track in a dangerous way - Hamilton said he stood by that opinion.
"Usually the first instinct is often the right one, I would say," he said.
"When I watched the replay and had a look at my data I had to brake at the exit of Turn 4.
"There was a hazard there, and if I had not done that, we would have crashed. I don't feel any different about that.
"The thing is from a driver's point of view you know how it goes. It's different when you're watching as a viewer, but as a driver things go wrong, and it's 'shoot!' - you try and squeeze so that you don't lose position.
"It's a natural instinct that we have. You're not going to go, 'actually I'm going to pull to the left and let them bloody go by.'
"He did block me, but unfortunately he went off track, and the way the rules are written, that's how it's prescribed."
Hamilton made clear he felt Vettel "drove a great race".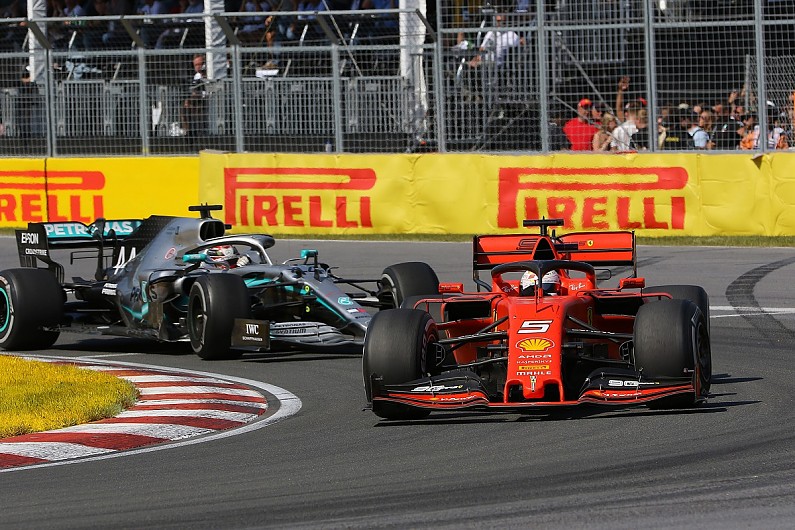 Until the penalty was applied, Ferrari had been on course for its first win of the 2019 F1 season and Vettel had given the team its first pole since team-mate Charles Leclerc's at the Bahrain GP in April.
"Except for his little off he did a great job," Hamilton said of Vettel.
"Ferrari were so strong this weekend. A real formidable force.
"I think we were very, very fortunate to be in the battle with them, because they genuinely could have had a one-two, if they had a front row for example, but luckily I was able to stop that.
"Honestly, at the beginning of the first stint I was like, 'Jeez they are really quick, I'm struggling to keep up.'
"But then I was able to keep him within distance, just, and then got a little bit closer towards the end of the first stint.
"Then he came in, and I stayed out, which in hindsight we probably shouldn't have done.
"Then the second stint all of a sudden I had this good pace, and I was like 'OK, we still have a fight'."