Formula 1 championship leader Lewis Hamilton led the way in the opening Thursday practice session at the Monaco Grand Prix, beating Max Verstappen by 0.059 seconds.
Hamilton and Mercedes team-mate Valtteri Bottas spent much of morning practice maintaining a familiar Mercedes one-two, before Verstappen slotted in between the pair in his Red Bull in the latter half of the session.
Times were tumbling down quickly in the opening half-hour as drivers got acclimatised to the street circuit, but Mercedes cars swiftly assumed the lead to sit first and second after their opening run.
While Hamilton and Bottas were closely matched at that point, with the top Ferrari of Charles Leclerc just a tenth behind, the reigning champion emerged from the pits again on the same set of softs and stretched out his lead as he fired in a 1m12.932s.
Bottas, Leclerc and Sebastian Vettel all surpassed Hamilton's earlier benchmark as they switched to fresh softs, but Hamilton responded swiftly and was back in the lead, trading a couple of fastest laps with Bottas before ending up on a 1m12.106s.
As Mercedes and Ferrari soon switched focus to long runs, this lap time kept Hamilton top until the chequered flag flew.
But Bottas, despite being just 0.072s slower than his team-mate, was shuffled down to third by Verstappen.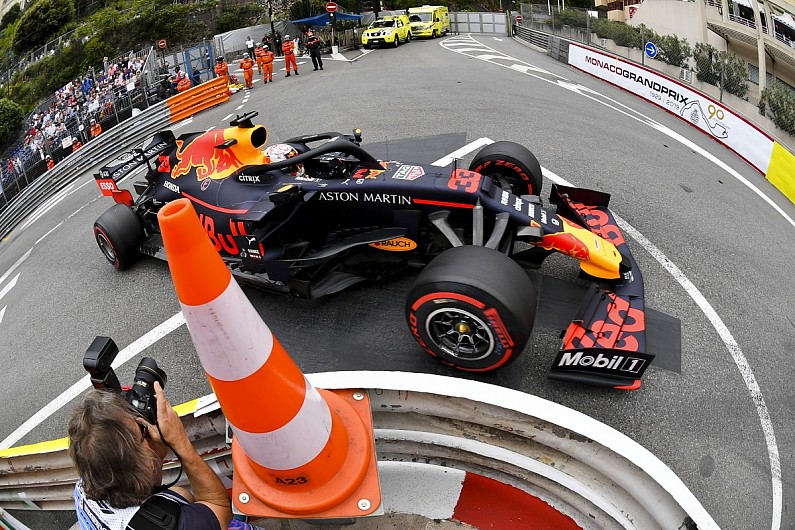 The Red Bull driver went down the escape road at Mirabeau after commencing his run on fresh softs, and required help from the marshals to reverse and get going again, yet ramped up his pace after that to take an eventual second place.
Local hero Leclerc wound up as the fastest Ferrari in fourth, 0.361s off the pace but over three and a half tenths up on Vettel.
Pierre Gasly, who had narrowly avoided a crash by catching a big slide in the Swimming Pool section, moved up to sixth place with 10 minutes left on the clock yet ended up a second off Red Bull team-mate Verstappen's pace.
Nico Hulkenberg was best of the rest behind the top three teams in seventh place, while Renault team-mate Daniel Ricciardo finished 11th.
Haas had its session compromised by a telemetry and radio issue, which forced it to request the FIA to black-flag both of its drivers on the opening run as it could not communicate with them.
Both drivers returned to the track in the final 20 minutes, with Kevin Magnussen finishing just 0.005s behind Hulkenberg in eighth, while Romain Grosjean followed Kimi Raikkonen's Alfa Romeo in 10th.
Toro Rosso was alone in running the medium tyre in the second half of the session, and had Daniil Kvyat as its leading driver in 13th. Racing Point worked on the hard tyre late on, with Sergio Perez heading its efforts in 16th.
George Russell was the leading Williams entry in 17th, four tenths up on Robert Kubica - whose session ended with an off with just over 30 minutes to go.
Kubica spun his FW42 exiting Casino Square, and tapped the front wing against the inside barrier, subsequently returning to the pits but not reappearing after that.
McLaren was down to just one car for most of the session, with Carlos Sainz Jr sidelined with a reported electronics issue and unable to record a timed lap.
Practice one times
| Pos | Driver | Car | Time | Gap | Laps |
| --- | --- | --- | --- | --- | --- |
| 1 | Lewis Hamilton | Mercedes | 1m12.106s | - | 47 |
| 2 | Max Verstappen | Red Bull/Honda | 1m12.165s | 0.059s | 35 |
| 3 | Valtteri Bottas | Mercedes | 1m12.178s | 0.072s | 43 |
| 4 | Charles Leclerc | Ferrari | 1m12.467s | 0.361s | 25 |
| 5 | Sebastian Vettel | Ferrari | 1m12.823s | 0.717s | 36 |
| 6 | Pierre Gasly | Red Bull/Honda | 1m13.170s | 1.064s | 41 |
| 7 | Nico Hulkenberg | Renault | 1m13.227s | 1.121s | 45 |
| 8 | Kevin Magnussen | Haas/Ferrari | 1m13.232s | 1.126s | 24 |
| 9 | Kimi Raikkonen | Alfa Romeo/Ferrari | 1m13.363s | 1.257s | 39 |
| 10 | Romain Grosjean | Haas/Ferrari | 1m13.379s | 1.273s | 23 |
| 11 | Daniel Ricciardo | Renault | 1m13.413s | 1.307s | 41 |
| 12 | Antonio Giovinazzi | Alfa Romeo/Ferrari | 1m13.437s | 1.331s | 39 |
| 13 | Daniil Kvyat | Toro Rosso/Honda | 1m13.731s | 1.625s | 40 |
| 14 | Alexander Albon | Toro Rosso/Honda | 1m13.827s | 1.721s | 45 |
| 15 | Lando Norris | McLaren/Renault | 1m14.278s | 2.172s | 39 |
| 16 | Sergio Perez | Racing Point/Mercedes | 1m14.566s | 2.460s | 40 |
| 17 | George Russell | Williams/Mercedes | 1m15.115s | 3.009s | 40 |
| 18 | Robert Kubica | Williams/Mercedes | 1m15.514s | 3.408s | 24 |
| 19 | Lance Stroll | Racing Point/Mercedes | 1m16.135s | 4.029s | 37 |
| 20 | Carlos Sainz Jr. | McLaren/Renault | 2m00.670s | 48.564s | 4 |