The new Montreal pits and race control building was officially unveiled at Formula 1's Canadian Grand Prix circuit after a particularly hard winter delayed the construction works.
The city and the race promotion organisation committed to the $39m new facility after signing a contract that runs until 2029, in one of the last deals agreed by former F1 boss Bernie Ecclestone.
Its old pit building - which was first used in 1988 when the start-finish straight was moved - was demolished soon after last year's Canadian GP.
Surfacing of the pitlane and interior furnishing are the final steps in the process.
F1 boss Chase Carey travelled from the launch of the Dutch Grand Prix at Zandvoort to attend the unveiling, where he was accompanied by Montreal mayor Valerie Plante.
"We had a rough winter, and the weather was not permitting us to put asphalt down," race president and promoter Francois Dumontier told Autosport.
"It was really, really cold, and longer winter than we are used to in Montreal.
"Apart from that, they did a great job. Last week did the asphalt around the building. I am quite happy about it, it's going to be very nice."
The buildings, created with energy efficiency and sustainability in mind, has already won an award from the Royal Architectural Institute of Canada.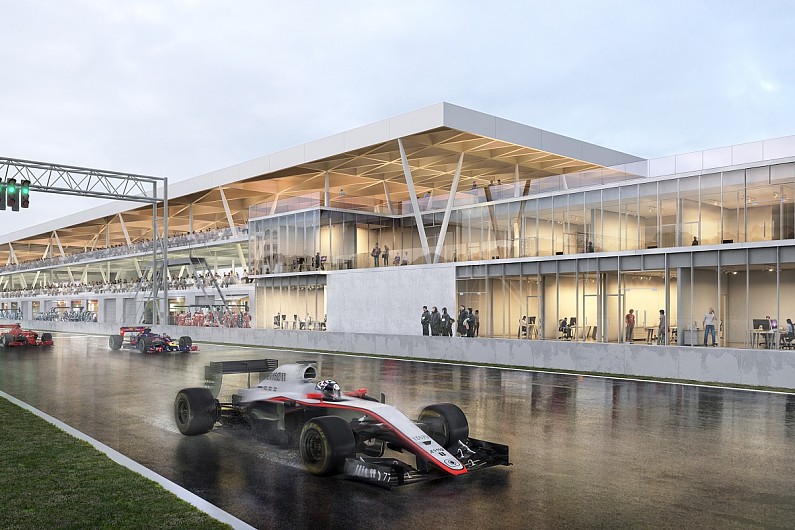 For the first time there are proper permanent hospitality facilities on top of the garages.
The rear of the garages is closer to the rowing lake than previously, reducing the width of the walkway.
The team hospitality units remain located on platforms that stretch over the water.
The new facility includes a media centre that will be available for rent for the rest of the year, generating some extra income to help justify the cost of the construction.
"The media centre will become for the rest of the year an events room, and the city is going to take care of that," said Dumontier.
"I think it's going to be very popular with a very nice view of the Montreal skyline. So, it's been built for that."
The lengthy contract means that Montreal's position is safe, as the future of several circuits remains in doubt.
Dumontier admitted that he is watching developments.
He said: "We're lucky enough to have a long deal up to 2029, but it's always interesting to see what's going on. I know a lot of those people, so I always wish the best both for them and for F1."