The Renault Formula 1 team has conducted a number of aerodynamic tests at Barcelona to investigate the flexure in its front and rear wings.
On Wednesday, the team ran with two spars mounted over the front of the nose, linked to diagonal pylons attached to the front wing.
This was completed with a white wrap applied to the car, with small dots positioned on the endplate in order to further monitor areas prone to flex.
Renault has continued that running on Thursday morning with a similar test at the rear wing, wrapping half of it white with black spots placed on the top flap and the leading edge of the mainplane.
With this, any rear-facing cameras can monitor the amount of travel in the wing and determine whether it requires any strengthening to improve its rigidity.
Aero rakes
It's no surprise to see teams using various pieces of kit to monitor how the aerodynamics behave in the real world, and elaborate aero rakes have been a commonly-used method.
With these, an array of Pitot tubes produce pressure values to build a map of how airflow behaves behind certain components - principally, behind the wheels.
Like many other teams over these tests, Red Bull has used an aero rake that extends past the front wheels, not only building a picture of how much wake the tyres produce, but also gathering information on the structure of the outwashed airflow produced.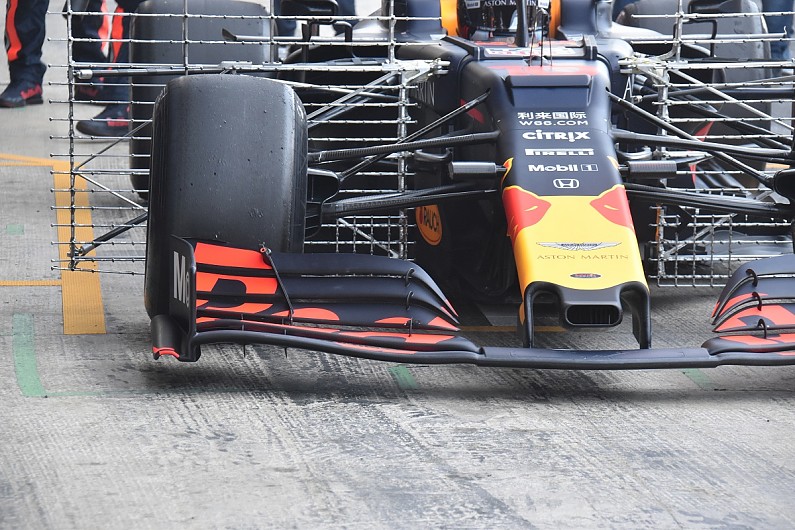 There's also a greater level of concentration of Pitot tubes on the inboard lower corner of the rake to understand how the air flows as it's shed from the inside of the front wing.
Williams has also been playing with aero rakes on Thursday morning. Its version covers the whole rear end of the car just ahead of the rear tyres.
This is to assess flow patterns coming off of the engine cover, and how the air circulates before it reaches the rear wing.
By testing in the rear world, teams are able to ensure that the results they experience correlates with what they receive in their simulations - and if not, can make the chances needed.