Force India Formula 1 boss Otmar Szafnauer has questioned Haas's protest against his team, and says Force India has more right to call itself a constructor than Haas.
In its protest the US-owned outfit claimed that current entrant Racing Point Force India is using a car designed and manufactured by its predecessor, Sahara Force India, with specific reference to listed parts - those the FIA specifies cannot be shared between teams, in essence the chassis itself and the bodywork.
The FIA stewards dismissed the protest and confirmed the new Force India entry first accepted for the Belgian GP was valid, and the new team met the definition of a constructor.
They asserted that the rules make it clear a team cannot use parts provided by a rival - and that because the original Force India team was out of the world championship and no longer a competitor, the use of the car created by the original team is legal.
Szafnauer questioned Haas boss's Gunther Steiner's claim that the protest was part of a quest for equality after the new Force India team was guaranteed the commercial rights earned by the original entry.
"I don't understand how they were claiming that they're trying to get equality by claiming that we're not a constructor when we clearly are," Szafnauer told Autosport.
"We design and make more parts than most teams, maybe a hundredfold more than Haas do.
"The irony and hypocrisy of it is they are protesting us, saying that we're not a constructor, when we are the definition of a constructor, and they aren't.
"The protest was that we are not a constructor because we didn't design and make the listed parts.
"Well, we did. Andy Green and Akio Haga and Ian Hall and Dan Carpenter, those are the guys that designed it, and guess what, they work for us!"
Szafnauer is adamant that when the new team was created prior to the Belgian GP it was allowed to take over the technology created by the original organisation.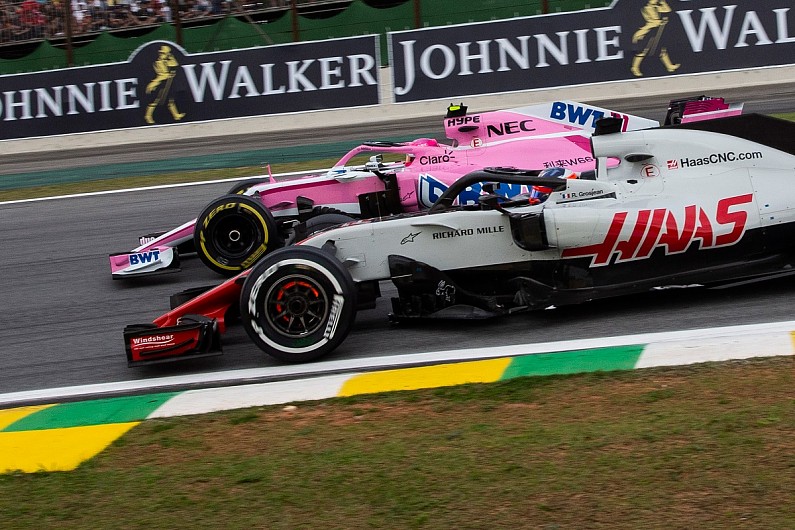 "What the regulations say is that a designed part cannot be used by two competitors in the championship," he said. "And that's not the case with us.
"If you buy designs and IP from an entity that is not a participant in F1, that's allowed.
"What's not allowed is to buy from another participant that is in F1, unless the parts are non-listed.
"And Haas employ that as well. They don't design themselves, they don't make themselves, they buy from Dallara. That is allowed.
"And we've done exactly that with Sahara Force India, that isn't racing any more.
"Now, if we had 11 teams, if Sahara Force India and Racing Point Force India raced with identical cars, then they would have a case."
Szafnauer pointed out that when teams change owners and chassis names they inevitably use technology designed under the previous identity.
"When Renault bought Lotus I'm sure that the next year's car was not 100% new, they used some designs that were there from the Lotus days," he added.
"You don't redesign pedals or steering columns every year, so this kind of thing happens all the time. The only difference is this happened mid-season."