Brazilian Grand Prix winner Lewis Hamilton says he would have taken a different approach to Max Verstappen in the incident with Esteban Ocon that cost the Red Bull driver victory.
Verstappen was leading the race from Hamilton and seemingly in control when Ocon attempted to unlap himself at the first sequence of corners, initially attacking on the outside into Turn 1, before trying to hold on for the inside at the next corner and hitting the Red Bull.
The contact spun Verstappen down to second, behind Hamilton, and gave his car significant floor damage that prevented him from being able to challenge the Mercedes, which had its engine turned down due to reliability concerns.
Verstappen was furious after the race, calling Ocon an "idiot" and confronting him in a brief shoving match in parc ferme, but Hamilton felt the Dutchman could have handled it differently.
"I saw it happen," said Hamilton.
"It wasn't something that... I wasn't surprised by it.
"I saw them racing but they were not racing for the same position. I would have been in a different frame of mind.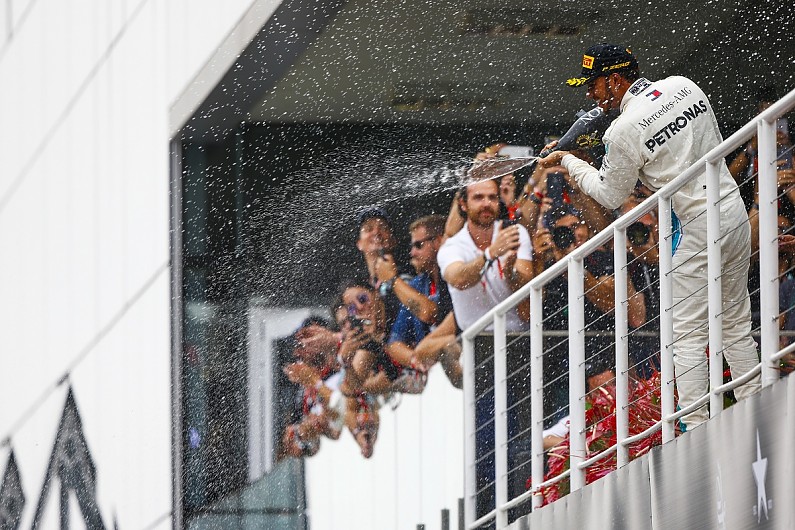 "Fortunately he was able to keep going, no-one got hurt and it was a racing incident I guess.
"Max is that go-getter guy and every now and again it bites you.
"But I am really, really proud [to win], I don't care about anybody else."
Ocon was given a 10-second stop-go penalty for the clash, despite protestations from his Force India team that Verstappen was the one at fault.
When Hamilton joined Verstappen in the drivers' room before the podium ceremony, he told him that Ocon "is allowed to unlap himself".
While Verstappen agreed, before adding "but you can't crash", Hamilton also said that "You had more to lose than he did. He had nothing to lose".