The FIA's recent ruling regarding Mercedes' Formula 1 wheel design suggests Haas deserves to have its Italian Grand Prix result reinstated, team owner Gene Haas believes.
Haas driver Romain Grosjean had finished sixth at Monza, but was excluded after Renault submitted a protest regarding his car's floor - which the team had not modified in response to an FIA technical directive.
The matter revolved around the requirement to have a 50mm radius on each corner of the front of the floor, and ongoing discussions between Haas and FIA representatives about how and when it would have to be addressed.
Haas claimed the summer shutdown meant it could not make revisions in time for Monza.
It appealed the exclusion, and the case will be heard by an FIA Court of Appeal in Paris on Thursday.
The FIA recently clarified that it considered Mercedes' controversial rear wheel rim concept, featuring internal holes and seen by some as potentially a prohibited moveable aerodynamic device, legal and whatever aero effect it produced "incidental".
Mercedes has not used it in the past two races to avert the risk of a Ferrari protest, but Haas said the precedent the FIA had set there ought to help his team.
"What did they say about Mercedes, that their little disc didn't have any effect on aerodynamics, it was immeasurable? It's the same thing for us," Haas told Autosport.
"What we did in putting a radius on a corner really was immeasurable.
"When it comes to Mercedes, they get away with it. When it comes to us, we get hammered. That radius was not relevant to performance."
Haas said in his team's case there were doubts over the interpretation of the relevant rules.
"The specification is written in English, it's not really documented with a diagram exactly what they want," he explained.
"Any kind of paragraph is always going to be subject to interpretation. That's why they were arguing about it for months between the teams.
"Then they finally put a date on it and said 'this is what we want', and we were saying we need one more race to get it done.
"We were racing it before that and other teams were racing it before that. It really wasn't significant in terms of performance."
The success of the appeal would mean a 10-point swing in the battle between Renault and Haas for fourth place in the constructors' championship.
But with Renault's advantage there now up to 30 points, Haas admitted the appeal outcome is unlikely to make much difference.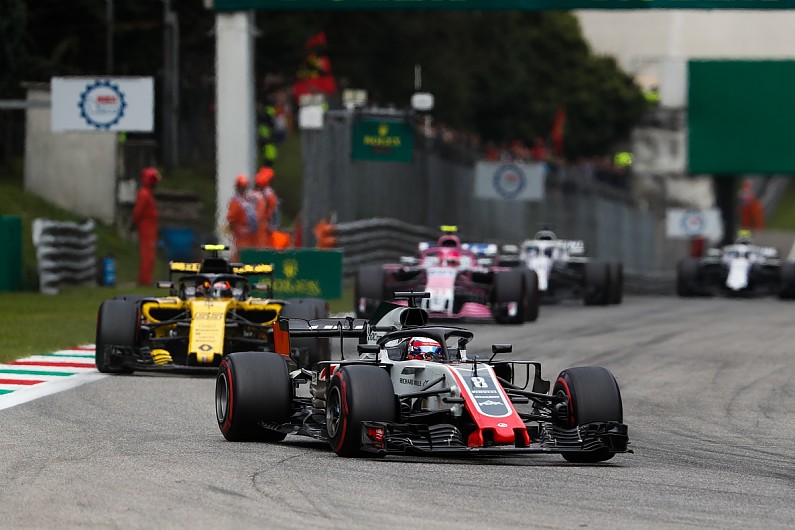 "I think we've got to really be happy with fifth place and kind of look at the whole year," he said.
"We were eighth the year before, and I think if we can hold on to fifth that would be an accomplishment.
"It's disappointing, near the end of the year we seem to have run into some bad luck and lost momentum."
Renault remains convinced that the right call was made by the Monza stewards.
"The appeal is between Haas and the FIA," its executive director Marcin Budkowski told Autosport. "We're just what they call an interested third party.
"We had to put a little bit of work into doing a dossier with the elements of why we believe the stewards' decision was right, but the reality is we're passengers or observers.
"We will attend, and we are potential witnesses if the judges decide to hear us."
Asked if he was confident about the outcome, Budkowski replied: "At the end of the day there's a court of appeal and I'm not going to comment on the judgement, but we believe that we're in the right, and that the sanction was appropriate."