Pierre Gasly believes rules over how aggressively Formula 1 drivers can race each other are "quite weird" and "a grey area" after an incident with Esteban Ocon in Mexico.
Toro Rosso driver Gasly tried to pass the Racing Point Force India around the outside of Turn 3 in the latter stages of the Mexican Grand Prix, but ran deep into the corner and felt he was then crowded out as the 90-degree left turns into a 90-degree right.
Gasly and Ocon clashed earlier this year in the French Grand Prix and Galsy said "it's always the same thing" when they are together.
"We know that when we are close on track, there are a lot of chances that things happen," said Gasly, who eventually finished 10th with Ocon 11th.
"He pushed me wide and I had to go off track. I could've forced the way into Turn 5 and we could've had contact, but I just thought it wasn't worth it.
"For me it wasn't fair - either you say, you need to leave the space to one car, or you say things are allowed and you can race aggressively, which I don't mind.
"You can compare this situation with many others this year, which happened with other drivers, also in my case in Silverstone.
"It seems to be quite weird and quite a grey area, with the fact that usually you should leave the space of one car and clearly there wasn't the space there."
Gasly suggested his rival was not "super happy" to be overtaken by someone who had recovered from the back of the grid.
He said he would speak to FIA race director Charlie Whiting to gain clarity over what is expected in wheel-to-wheel comeback.
"I will speak with Charlie, because if this is allowed, next time I know what I can do," said Gasly.
"Brendon [Hartley, Gasly's team-mate] got a penalty for something which was, apparently from what I heard, not as aggressive.
"It's worth speaking about it with Charlie to see. I need to look at the footage again but from inside the cockpit for me was a bit too aggressive, I had to go off track."
Whiting said Gasly needed to take responsibility for the incident.
"I think the stewards felt that he had gone in too fast anyway and was understeering off," he said.
"You can see he locks up his brakes. He was just alongside Ocon.
"Sure, Ocon made it difficult for him, but he was going that way anyway."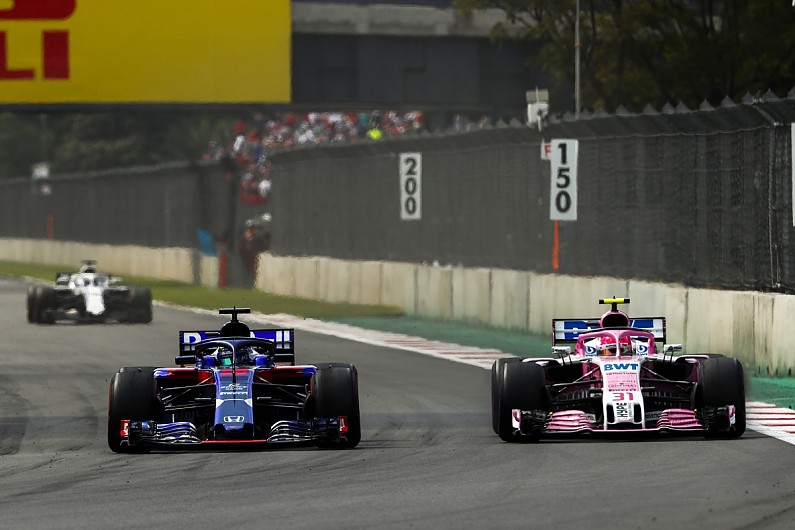 Hartley was hit with a five-second penalty for causing a collision when Ocon tried to pass him on the inside at Turn 3.
He was judged to have squeezed the Frenchman at the apex, which resulted in contact.
"He was halfway behind me, obviously in my blindspot," said Hartley.
"It was close but when there's contact you have to do something about it and I was probably more to blame than him."