Sebastian Vettel says Ferrari took too long to wake-up to the fact that it had lost its way with recent car developments in Formula 1.
Ferrari's decision to abandon recent updates and roll back to older specification concepts at the United States Grand Prix helped trigger a return to form, with Kimi Raikkonen taking his first win since returning to the team.
Although Vettel's own hopes of victory were dashed by an opening lap clash with Daniel Ricciardo, he was well aware of the significance of the team's step up in pace after recent struggles, even if it is too late to rescue his world championship hopes.
"It took too long," he said about the car being quick again. "You can see it is good news but you can also see it is bad news.
"If we have to go back to a car that has been competitive three/four months ago, then surely it cannot be good news if you think about it.
"For us on the technical side it is important to understand what went wrong."
Vettel said there was no easy answer to explain why it had taken Ferrari so long to realise that it had gone down a wrong path with its updates.
"It is a bit hard to explain," he said. "Certainly we felt that the car was not as strong as it was before, but if you don't see there is anything wrong, then you don't know that there is something wrong.
"All the steps that we did, they seemed to make sense but now looking back they didn't.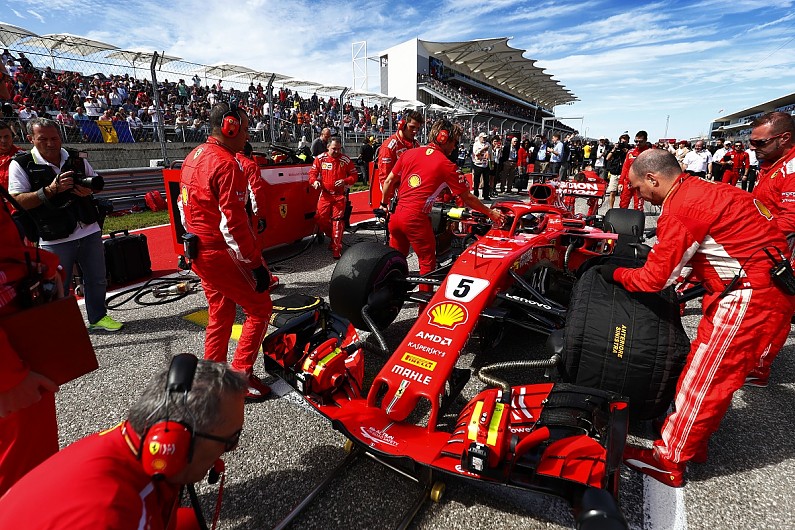 "Clearly there was something we missed, and we haven't understood yet why and where the error exactly took off or started.
"So there is a lot of stuff for us to do and understand, but I am pretty sure we will do what is necessary to get on top of it."
Asked if the circumstances of recent races - like the qualifying preparations in Singapore or the bad weather in Japan - had disguised Ferrari's problems, Vettel said: "For sure. Once the shit hit the fan it didn't get better.
"There were too many of those incidences. I don't believe in luck or bad luck but surely here or there things didn't go our way entirely, but that is how it is."
While Vettel accepts his own mistakes that cost him valuable points, he is sure that the lack of progress with its car was a bigger factor in opening the door for Mercedes in the title race.
"It is not like there is a fundamental problem, and in the end it looks a lot worse than it was," he added.
"I have no problem admitting the mistakes I've done on top.
"There were some things that happened to us that didn't help us, but the crucial bit has been that for a big part of the season we didn't have the speed to really be there, and then other stuff happens that maybe doesn't help that.
"There will be a lot of stuff over the winter that we need to review, all of us, including myself."