McLaren's Formula 1 design team's concepts are often found on other cars up and down the grid.
But in 2018, McLaren has failed to get the most out of an idea that Mercedes and Ferrari have since properly exploited.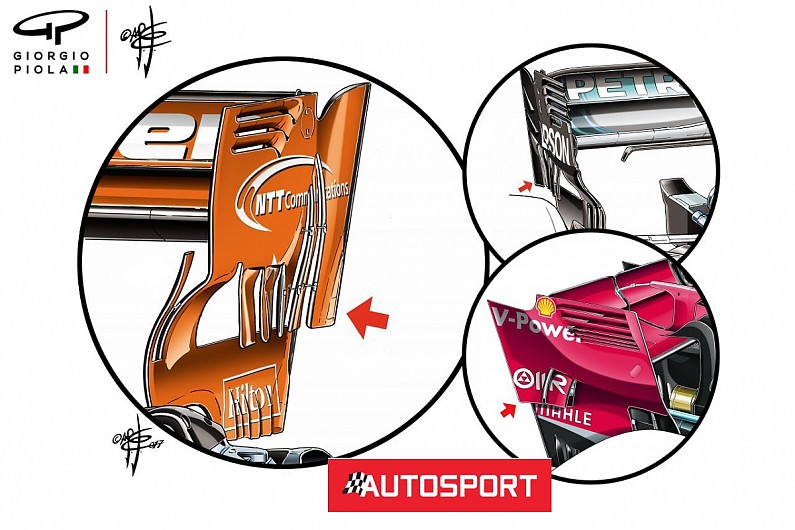 One of McLaren's key ideas is a wing solution that features strakes, first using the concept back in 2017, and it has its roots in a test item deployed at the Austrian Grand Prix in the year before.
McLaren's designs found an opportunity to improve the amount of downforce generated by the rear wing, noticing a vagary in the way the regulations had been written.
The rules essentially offer a 'box region' in which the narrow bottom half of the wing transitions into the wider upper section - but it was not clearly defined whether or not overlapping bodywork was allowed.
This ambiguity led to the use of the strakes on the upper outer edge of the wing, which technically sit in a region where the transition should occur.
These strakes drive the airflow in an attempt to increase the wing's aspect ratio, which should result in a need to run comparatively less wing angle.
The strakes also create a vortical structure that affects the formation of the tip vortex above.
Mercedes and, more recently, Ferrari have taken advantage of the gains that this new endplate design offers - having added it to their cars this year.
Mercedes first ran it in Austria, while Ferrari followed suit in Singapore.
The use of this wing has been limited to higher downforce circuits, with Mercedes introducing a special iteration of the design to help counter the problems it has previously faced in Singapore.
The two teams clearly hold the concept in high regard when it comes to the higher downforce circuits, as the slots help to artificially increase the wings' aspect ratio and create an airflow structure that also alters the tip vortex above.

The Mercedes design features a much taller slot on the rearward most strake (highlighted in yellow) and also resulted in the deletion of the upwash strikes that usually occupy that space.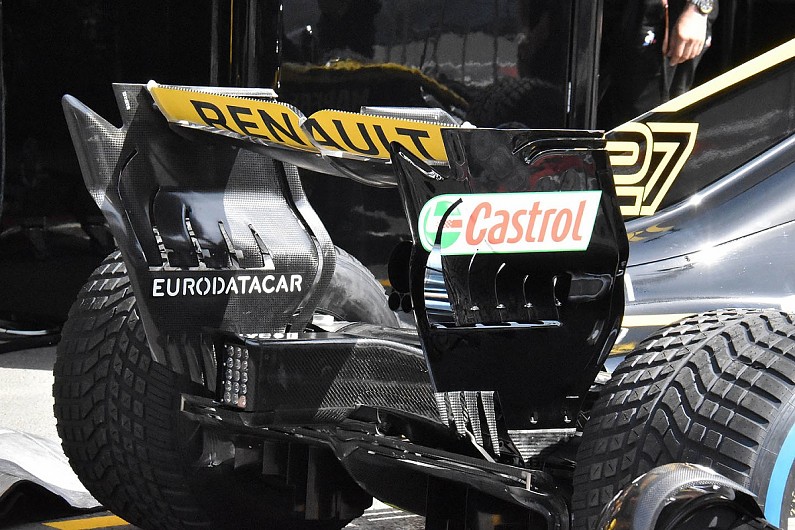 Conversely Renault, another to adopt a similar design, has run the straked endplates at low downforce circuits too, hinting at the aerodynamic void between the leading duo and the two Renault powered teams, as they suffer more drag to gain apex speed.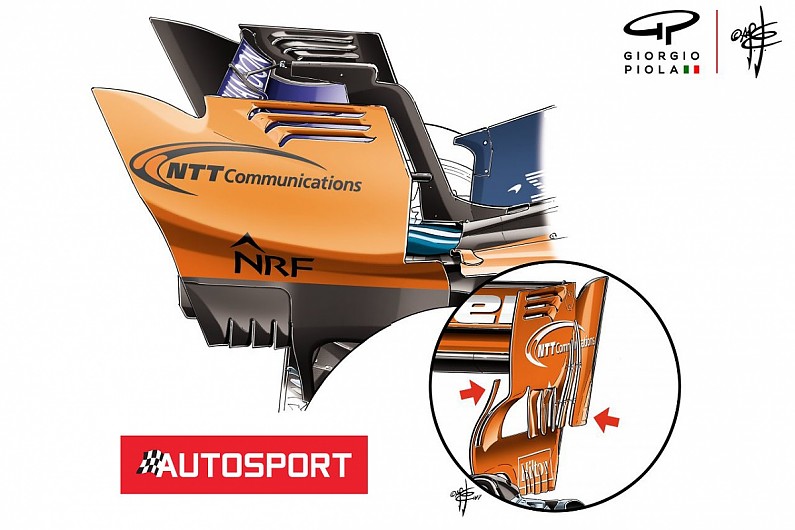 But while others have copied the McLaren idea, the team has actually moved away from the concept as part of an attempt to improve straightline speed.
The Russian GP was the first time this year it ran a more conventional set of endplates. It can also be considered a sneak peek into next year too as the avenue is expected to be closed off for 2019, ending the vagary of the regulations in the past two seasons.