Lewis Hamilton says he has loved going head-to-head with Sebastian Vettel for the 2018 Formula 1 title and wishes he had more fights with the Ferrari driver.
Hamilton came out on top of wheel-to-wheel battles with Vettel in two of the last four grands prix, in Italy and Russia, which were crucial moments that led to his eventual victories in both races.
It has helped put Hamilton on the brink of a fifth title, with Vettel 67-points behind with four races left.
When asked by Autosport how much it means to him to have beaten Vettel in racing situations, Hamilton said: "I love that we have those races and those battles. I wish to have more of them.
"Being able to go up head-to-head with the guy you're competing with, [see] who brakes earliest, who falters, is the ultimate challenge of your mental stability under that pressure.
"I always welcome them and I'm glad, I'm grateful we have had some of those moments, like [in Russia].
"The strategy didn't work out well but it was actually good for giving me the opportunity to show my abilities at those pressured moments."
Hamilton and Vettel traded the points lead over the first half of the season, but Hamilton has broken clear by winning the last four races.
He can seal the championship in the upcoming United States Grand Prix, where he needs to outscore Vettel by eight points to clinch the crown with three rounds remaining.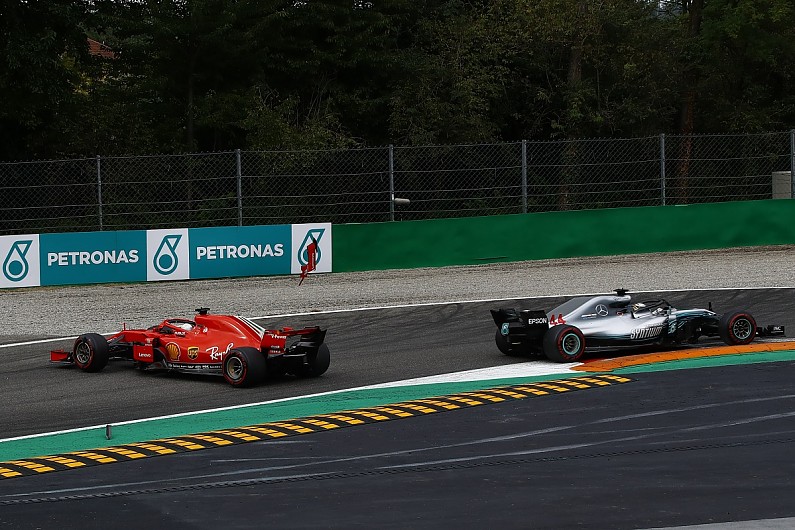 Responding to a question regarding any personal disappointment over not racing Vettel more closely in the run-in, Hamilton said: "When we were having a race like Monza [where Hamilton had to catch and pass Kimi Raikkonen to win], for me I love that race.
"I would be happy to have that at every race following that.
"I honestly thought that was how it was going to be, given they were so strong in the previous two races.
"But yeah they've just lost a lot of performance and it's been a little bit difficult for them.
"Of course I would love to race right to the end - every single race I want battles like Monza.
"Those are the races that I love and welcome them more and more.
"Unfortunately it just isn't the case. I can't let that take away from the great job we're doing and from our happiness."
Following his Japanese GP win at Suzuka last weekend, a race where Vettel clashed with Max Verstappen and had to recover from the rear of the field as a result, Hamilton defended his rival over criticism of his recent errors.
"I feel the media need to show a little more respect for Sebastian," Hamilton wrote on Instagram.
"You simply cannot imagine how hard it is to do what we do at our level, for any athlete at the top of their game that is.
"It is to be expected that being humans we will make mistakes but it is how we get through them that counts."