Toro Rosso driver Brendon Hartley says a "lie" from his race engineer contributed to his best-ever Formula 1 qualifying result at Suzuka.
Hartley beat team-mate Pierre Gasly to sixth place in Japanese Grand Prix qualifying, finishing behind only Romain Grosjean in the unofficial 'Class B' order.
Rain hit the track at the end of Q3, meaning drivers' first attempts were the ones that determined the order - although the surface was not in optimal condition at the start of the session either, as it had also rained at the end of the previous segment.
Hartley said his race engineer Pierre Hamelin had spurred him on early in Q3 by saying the Racing Point Force Indias had improved on their Q2 times, but in reality Esteban Ocon was half a second slower and Sergio Perez did not manage a clean lap.
"All the sessions were tricky because the kerbs are always wet, you had to be very precise," Hartley said.
"[In] Q3, my engineer told me on the radio that Force India had improved their time, 'so the track is definitely OK'.
"I've now looked at the timing screens and realised that he lied to me.
"So he gave me good confidence that the first sector was going to be dry and [have] good grip, which was a good thing. I had to have full trust in him.
"The team did a fantastic job to put us on track at the right time, and no mistakes from anyone today, so, mega."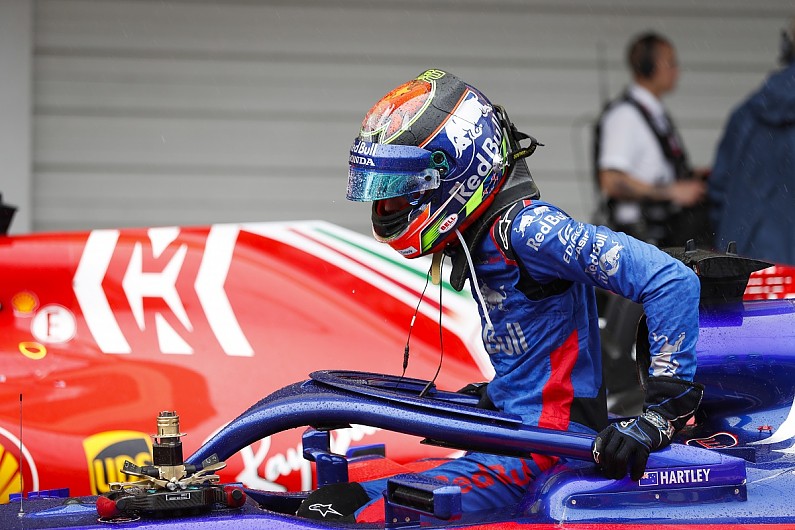 Asked whether it was already raining on his best lap, Hartley said: "Yeah, it was raining on the visor.
"And obviously at the end of Q2 it was also raining so much that we couldn't go out on slicks.
"So starting that first lap and having the confidence through sector one was tricky, there was a lot of talking to myself [and] trusting the team that obviously told me the Force India was quicker."
Gasly wound up within a tenth of Hartley to qualify seventh, and said the result was "unbelievable" for Toro Rosso.
He did, however, admit he was disappointed not to qualify higher, as he said his new-spec Honda engine was running turned down compared to Hartley's due to issues during practice.
"I had some serious oscillations in upshift [in free practice three] and I was down on power quite a lot," said Gasly.
"We couldn't really test the qualifying settings so from Q1 I was always down on power and trying to recover run after run, but in the end we could not run the engine as aggressive as the other side.
"[I missed] two-to-three tenths on my fastest lap, which is more or less the gap that we miss compared to [Romain] Grosjean, so P5 was possible, which would have been best of the rest, which is always nice on the driver point of view.
"But then, P7 I think is the second- or third-best qualifying of the season for me, so I'm still happy."