Esteban Ocon has admitted his only remaining hope of staying on the Formula 1 grid in 2019 is with Williams.
The Frenchman is battling to stay in F1 next year after a planned switch to Renault fell through at the last minute when the manufacturer opted to sign Red Bull's Daniel Ricciardo.

How a handshake sealed Ocon's fate
Although Williams is facing competitive struggles, Racing Point Force India driver Ocon said discussions are ongoing about what he will do for next year, and dismissed suggestions a move to the Grove-based outfit would be a backwards step.
"There are talks with Williams obviously," he said ahead of the Russian Grand Prix.
"The talks are there, but I cannot say it will be a downgrade. Williams is a great team, they have been world champion in the past and they have been fighting with us hard last year.
"They have tough times, but all teams have tough times."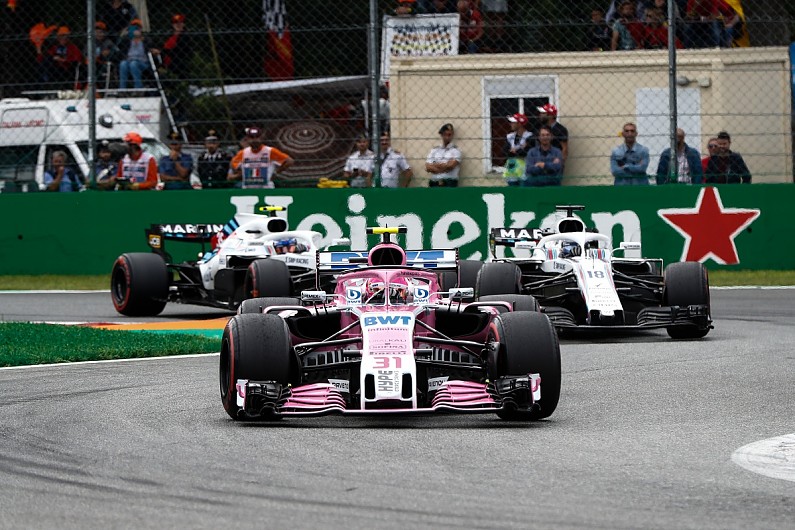 Pushed on whether Williams was his only option of remaining in F1, he said: "I think so."
Ocon added he will sit out 2019 entirely if a chance at Williams does not come off, and ruled out racing in other categories like IndyCar.
"It could be an option to be on the bench next year," he said.
"But even if that is the case, I will be back in 2020, and I will be back stronger and prepared."
Asked about IndyCar, he said: "I am not interested. I am interested in F1, and that is the only thing I want to do. That is my only focus.
"I like racing, I like cars and I think it is a great series. But the only thing I look at is F1, it is my only target and my only target is to be world champion one day, and there is nothing else that counts really.
"Looking at Robert [Wickens], it breaks you a bit from that, but even if that was not the case I would not look at IndyCar."
Ocon does not believe he needs to race elsewhere because he would not gain anything that would make him better prepared for an F1 comeback.
"If I am told I am not racing in the next couple of years in F1, then I need to leave, I need to work," he said.
"But what I am trying to do is, if I am not racing in F1 next year, to come back in 2020.
"I feel like there is nothing for me to learn away from F1."