Red Bull is bracing itself to take engine grid penalties at the Russian Grand Prix, as it considers a surprise move back to a spec B Renault.
Although Max Verstappen was able to start on the front row and finish runner-up in Singapore with the more powerful spec C, his weekend featured repeated mapping issues.
It meant his engine kept bogging down or dumping him into a false neutral whenever he was not at full throttle.
Red Bull is hopeful that the mapping issues can be sorted out before the spec C runs again, but team principal Christian Horner has revealed his squad is now looking at a surprise move to fresh versions of the older spec B engines for the next race at Sochi.
It had already made no secret that it might need to take further penalties after fitting new engines in Italy, and Russia's long straights do at least allow the chance for overtaking to recover from any grid penalty incurred.
Asked by Autosport if the C-spec problems could be sorted, Horner said: "It's something that hopefully can be tidied up the next time we use this engine.
"The likelihood is, we'll be using the B-spec engine at the next grand prix.
"We'll have to look at it in the run-up to Sochi, but unfortunately it looks like we may incur some penalties."
The decision to add a B-spec engine to the pool for its drivers is most likely motivated by the fact it is at least reliable, with Renault having been clear from the outset that this could not be guaranteed with the C spec yet.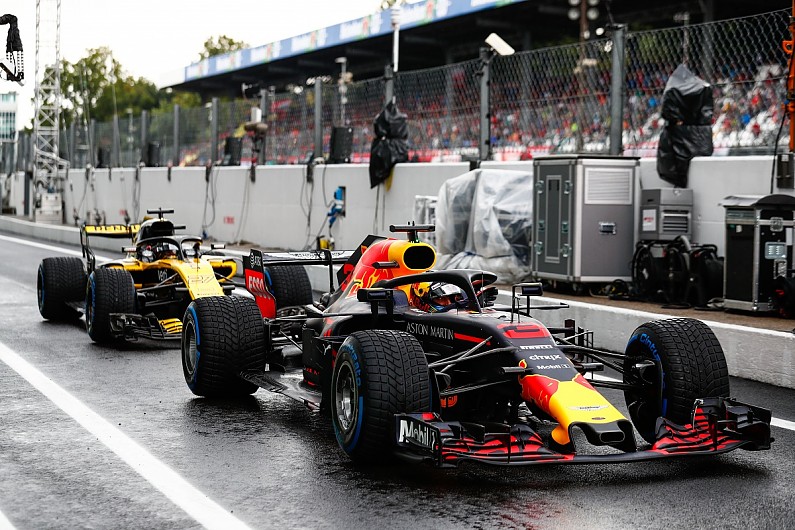 Both Renault's works team and fellow customer McLaren have stuck with spec B so far for that reason.
Red Bull had been positive about the performance upgrade with the spec C, and initially felt its use of ExxonMobil suited the new engine better than the works team's Castrol oil.
The move to a more durable engine could be important with challenging events such as the high altitude Mexican GP - which Red Bull won last year - coming up.
Horner said the problems Verstappen suffered in Singapore were because the Renault engine had not been mapped properly for the high humidity conditions.
"Because of the torque generation, with these ambient conditions, the engine wasn't optimised," he said.
"And that's been an issue throughout the weekend, more so on slow laps.
"The guys did a good job to patch it up as best they could. But you ended up with inconsistent torque delivery and then that causes the gearbox to get out of sync, and a false neutral is to protect the gearbox."