Lance Stroll has had a seat fitting in this year's Racing Point Force India VJM11 Formula 1 car.
Stroll has been linked to a potential move from Williams to Force India - which was saved by a consortium led by his father Lawrence last month - before the season's end.
Team principal Otmar Szafnauer said the fitting, which took place at the team's Silverstone factory earlier this week, was done "just in case" a change was made this season.
"He came and had a look around and did a seat fit," said Szafnauer. "So he fits in the car, just in case."
Technical director Andy Green said the primary object of the exercise was to learn about Stroll's cockpit preferences for the 2019 car.
"What we wanted to do was make sure there was nothing we needed to change on next year's car, subtly for him," Green explained.
"There were a few things we need to change, which we caught just in time."
When asked whether a seat fitting had taken place, Stroll joked he "took a wrong turn" leaving London before ending up at Force India's factory.
"Have you been before?" said Stroll. "I pretty much saw what you saw...
"I was just in the area. Just coincidentally! I took a wrong turn out of London!"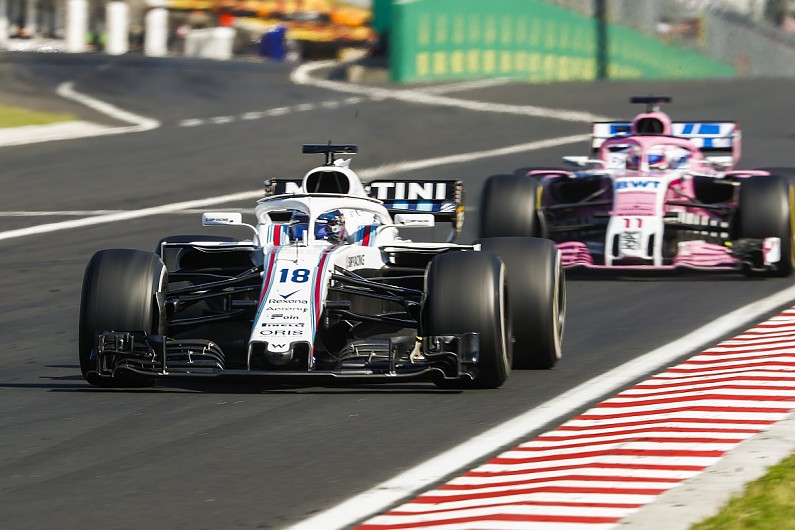 Williams deputy team principal Claire Williams said any changes would not happen until after the next race in Singapore at the earliest, but Szafnauer said no plans are in hand as yet, noting the legal hurdles that would need clearing.
"As we sit here today we're keeping the same two drivers probably for the rest of the year, but you never know what tomorrow brings," he said.
"I would imagine that Lance has a contract with Williams, and I imagine that the CRB [The FIA's Contract Recognition Board] has that.
"So the first step is to be released, and that assumes that we want him to be released as well. There's a lot of stuff that I'm not in control of.
"We've done the seat fitting, we're in control of that. The rest of the stuff is legal stuff, but if two people agree, you can do it.
"Say we say to Esteban [Ocon], 'Sorry Esteban you've got to go, we're going to put Lance in the car,' just hypothetically - and Esteban says, 'Sorry I've got a contract'. What do you do?
"As I sit here today, I don't know, I can't tell, mainly because it hasn't been decided. And for that to happen a lot of other stuff has to happen, and it's not just a switch."
Szafnauer agreed there were two ways for new team owner Stroll Sr to view the situation: he could either switch his son early to prepare him for next year, or keep the current drivers, who are familiar with the VJM11, and potentially maximise the chances of scoring points to move the team up the constructors' table.