Fernando Alonso has received a replacement Formula 1 chassis following his Spa crash, meaning McLaren has been left without spares for some of its latest specification parts at Monza.
It is yet to be determined if Alonso's Renault engine survived the first-lap collision with Nico Hulkenberg and Charles Leclerc, with a final call set to be made in Friday's running.
"I think it's a chassis that I used anyway in winter testing or the first races," Alonso said of the replacement. "So it's something that we already raced with. On the engine side it could be OK, but we will find out probably tomorrow in FP1.
"We want to put it in tomorrow and confirm everything's OK. There were some concerns on Sunday, then Monday and Tuesday they checked everything properly and it seems OK, so hopefully we can run still with that engine.
"The full car - not only the chassis - but the floor, the front wings, things that we are limited on parts as well, they're gone and it was quite expensive."
Asked if he had enough spares of the latest spec parts, Alonso said: "We have enough luckily, but we've probably run out of spare parts.
"We have just what we have on the car. All the rest will probably be a different specification.
"As I said, this is quite tough, because the damage on the cars was quite extreme, especially on my car.
"Then you have four days only to build a completely new car for Monza. It's the way it is."
Alonso added that his early retirement was frustrating because the team had opted not to replace his engine at Spa after grid penalties for rival drivers, meaning he will need to take his own penalty for new parts in the coming races.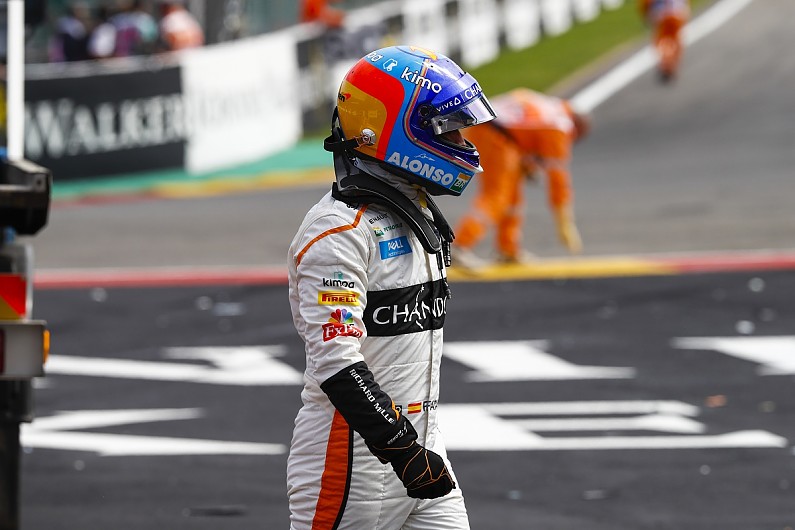 "Because of the penalty of Hulkenberg, Bottas and Sainz we opted not to change the engine in Spa and [instead] benefit from the P14 starting position, and then on the first corner, you're out of the race.
"You will have to pay the penalty either in these races or later on, so it's a double zero - one in Spa because of another guy, and another one when you take the penalties."
Alonso added that he felt some back and wrist pain following the crash, having left Spa on Sunday night with his right wrist bandaged.
"It [his wrist] was on Sunday a little bit [painful], and I'm still feeling some kind of heat there, because I had the hands on the steering wheel when I touched Leclerc. Every day it's less and less, it should be OK for tomorrow.
"Honestly the only painful day was Tuesday. On Sunday it was fine, on Monday it was OK, but on Tuesday when I woke-up I had the back [pain].
"I felt a little bit sore, and a little bit of a pain. But yesterday was fine, today was fine, so it's all OK after that."