Former Ferrari chairman and CEO Sergio Marchionne has passed away at the age of 66, just days after the company announced a succession plan.
Marchionne had entered hospital for a shoulder operation, but after surgery his condition deteriorated rapidly, with reports suggesting that an embolism had led to a coma.
On July 21 Ferrari reported that it had "learned with deep sadness during its meeting today that chairman and CEO Sergio Marchionne will be unable to return to work." It was announced that John Elkann would become chairman, and Louis C Camilleri was named as CEO.
In a statement issued on Wednesday Elkann, the grandson of former Fiat boss Gianni Agnelli, said: "Unfortunately, what we feared has come to pass. Sergio Marchionne, man and friend, is gone.
"I believe that the best way to honour his memory is to build on the legacy he left us, continuing to develop the human values of responsibility and openness of which he was the most ardent champion.
"My family and I will be forever grateful for what he has done. Our thoughts are with Manuela, and his sons Alessio and Tyler."
F1 CEO Chase Carey described Marchionne as "a great leader of not just Formula 1 and the automobile world, but the business world overall.
"He led with great passion, energy and insight, and inspired all around him.
"His contributions to Formula 1 are immeasurable.
"He was also a true friend to all of us and he will be deeply missed."
Mercedes team boss Toto Wolff called Marchionne's death "a sad day for all of us in F1. We have a lost a huge supporter of our sport, a fierce competitor, an ally and a friend".
The colourful and charismatic Marchionne became chairman of Ferrari in September 2014, replacing Luca di Montezemolo.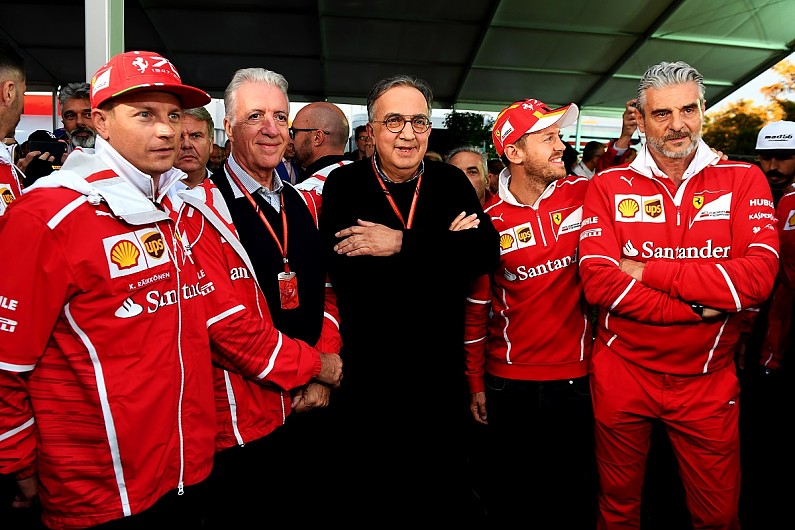 Despite his other commitments Marchionne had a close involvement with the Formula 1 programme, and was behind the decision to replace team principal Marco Mattiacci with Maurizio Arrivabene just two months later.
He took a keen interest in the driver choices, and was a supporter of Charles Leclerc. He also steered the Alfa Romeo/Sauber deal.
Marchionne played an important role in the bigger picture of F1's future, seeking an informal political alliance with Mercedes, and making it clear that Ferrari did not want to see a 'dumbing down' of the engine regulations.
He was reportedly very vocal in Strategy Group meetings and other gatherings of F1's main players.
In the wider world Marchionne was known for brokering the alliance between Fiat and Chrysler and turning both companies around.
Born in Italy in 1952, he moved with his family to Canada when he was 13, completing his education there.
He initially earned a degree in philosophy before adding accountancy qualifications, an MBA and a law degree to his CV.
Marchionne worked in a variety of companies in legal and management roles before first joining Fiat as an independent director in 2003. He became CEO the following year.