Daniel Ricciardo says it was important for him to understand Red Bull did not take Honda Formula 1 engines for 2019 just because things had "gone to shit with Renault".
Ricciardo has yet to commit pen to paper over a new Red Bull deal but is expected to remain with the team for its switch from Renault to Honda next season.
Asked by Autosport if he was completely convinced by Honda, Ricciardo said: "I think probably until I was to drive a Honda I wouldn't know [100%].
"I've obviously heard the team out more than once and they've given me the reasons.
"The important thing for me, to understand why they've done it, is it can't just be purely on emotions.
"Like, 'It's gone to shit with Renault, whatever, and we're doing it because we want to change'.
"They've obviously done their homework and they strongly believe that it is a good thing, not just an emotional decision.
"They've done what they can to try and encourage me to make it happen."
Red Bull team principal Christian Horner said Ricciardo did "not really" need much convincing about Honda.
He said: "We sat down and explained the rationale behind the changes we made.
"The reality is it's time for change. We've been doing the same thing year after year, we've seen real progress with Honda, and it just feels the right time in our evolution to be going a different route."
Red Bull's junior team Toro Rosso has been using Honda engines this year, and it was the Japanese manufacturer's combustion engine upgrade in Canada that sealed the deal for the senior outfit.
But Toro Rosso driver Pierre Gasly complained during last weekend's British Grand Prix that Honda was costing his team almost a second in straightline speed.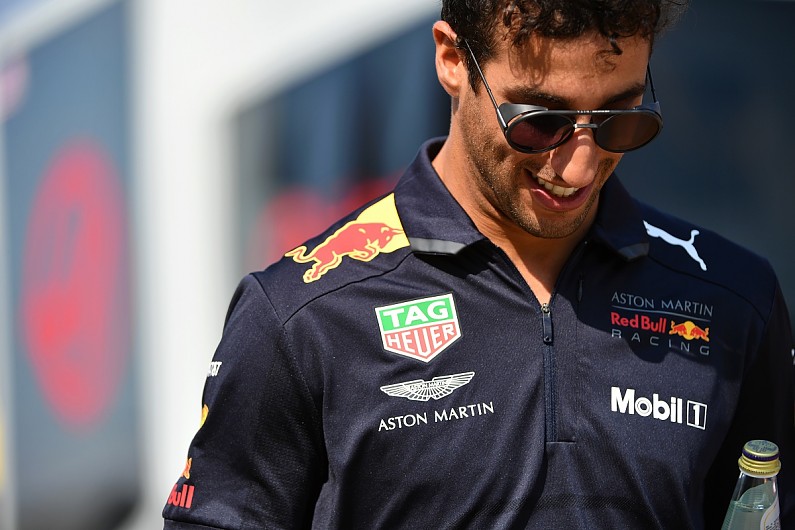 Ricciardo downplayed the impact this would have on his faith in Honda for 2019, saying after qualifying: "Well, I would say we're losing something similar [with Renault]."
His team-mate Max Verstappen stated on multiple occasions that the Renault engine was costing Red Bull a second around Silverstone, calling the deficit in the race "tragic".
Renault's inability to match Ferrari and Mercedes since F1's turbo-hybrid era began in 2014 has been a constant frustration for Red Bull and its drivers.
The French manufacturer introduced a new high-power mode for the Austrian GP but Ricciardo played down its impact.
"I keep a baseline chill and I don't get too excited," he said.
"It's easy to be disappointed if you think it's going to be that good.
"If it's better, it's better and we'll take anything we can."