Williams has requested a review of several Formula 1 Azerbaijan Grand Prix decisions, including Sergrey Sirotkin's grid penalty, and questioned Fernando Alonso's recovery of his damaged McLaren to the pits.
Sirotkin was given a three-place grid penalty for a collision with Force India driver Sergio Perez on the opening lap of last month's Baku race, which is due to be served at the Spanish Grand Prix this weekend.
In requesting the review, Williams has referenced not only the stewards' decision to give Sirotkin a grid penalty and two penalty points, but also one that meant Kevin Magnussen earn a 10-second penalty and two penalty points after contact with Pierre Gasly, and another in which Esteban Ocon escaped penalty after his first lap incident with Kimi Raikkonen.
It has also asked the stewards to examine the clash between Sirotkin, Nico Hulkenberg and Alonso that occurred further around the opening lap, and at the way Alonso brought his damaged car back to the pits.
The FIA noted that, "the team has also requested the Stewards review an incident involving cars 17, 27 and 35 in Turn 2 of Lap 1 of the race and the actions of the driver of car 14 in returning to the pits. (The Stewards note that the reference to car 17 above is most likely incorrect and it should be car 14, namely Fernando Alonso)."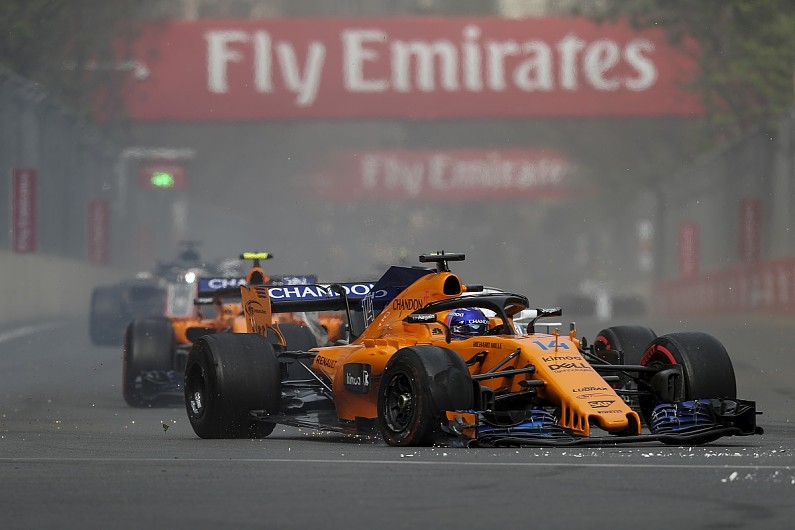 A review of Sirotkin's penalty will only proceed if Williams can first prove that there is new evidence, or a "new element" that was not considered by stewards in Baku, and which the International Sporting Code specifies as the usual procedure in such cases.
The review will take the form of a teleconference involving the original Azerbaijan Grand Prix stewards, including Tom Kristensen, which starts at 10am UK time on Tuesday.
If the FIA agrees in a preliminary hearing that there is new evidence, a second hearing will consider that one hour later.
The FIA told the team: "You are requested to appear before the Stewards to provide evidence in relation to the request. There shall be a preliminary hearing to determine if a "new element" as defined in Article 14.3 of the Code exists.
"This will be followed by another hearing to conduct the review(s), if any new element is determined by the stewards, to exist. It should be noted that the second hearing will occur only if such new element is determined in accordance with the Code, to exist."