McLaren racing director Eric Boullier has admitted the team might not have been ambitious enough with the performance targets for its 2018 Formula 1 car.
Though McLaren has scored points in its first two races since switching from Honda to Renault power, it continued a run of midfield qualifying results when Fernando Alonso and Stoffel Vandoorne ended up on row seven at Shanghai on Saturday.
Boullier admitted the MCL33 had met the expectations of the targets set in CFD and windtunnel research.
"The car is a match for the target, so that means maybe the target was not the right one," he said.
"So we need to revise in terms of ambition what we need to achieve."
He also insisted that the Honda years had not masked fundamental problems at McLaren.
"If you listen to the drivers, they are happy with the balance of the car," said Boullier.
"Whatever you try on set-up the car reacts accordingly, so a little more understeer, less understeer, more oversteer, one tenth better here, one tenth slower here.
"So I think we have a good understanding of the car. The car has no nastiness, if you want, in terms of design.
"We just need to make the car faster around the corners and in a straight line."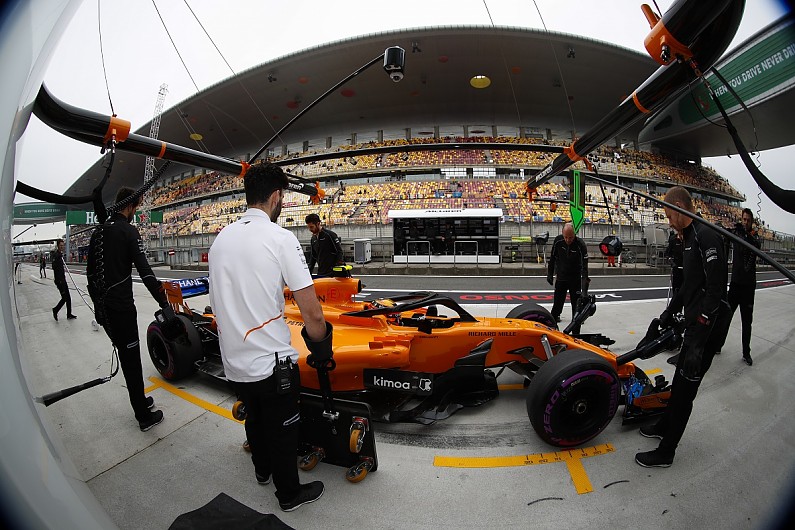 Boullier admitted that having two other Renault-powered teams as a benchmark - something McLaren has not had for the past three years - meant that there was nowhere to hide.
"We have the same engine as Renault and Red Bull and we are behind, so there is no hiding, nothing else than fact," he said.
"We need to understand why we are slow in qualifying, why we are better in the race, and why we are behind the other Renault teams. Full stop.
"There were obviously some questions asked in Bahrain, there is still an ongoing process because we have to address it, and we will address it, and we are about to address it."
Asked by Autosport if the team's slipstreaming strategy in Shanghai qualifying indicated a fundamental aero efficiency problem, Boullier replied: "This is obviously one of the issues, our top speed is not the best one because we are the bottom of the ranking. But it's not the only one.
"If it was as simple as this question of drag in the car, that would be easy to fix.
"We have to address all the aspects of the car, to make sure we know where we should be."
McLaren has targeted Barcelona next month for a major upgrade package.
"I said before we didn't turn up in Australia with the car we wanted, because we were delayed for some reasons," Boullier added.
"A lot of parts and a lot of upgrades are on the way to hit the track. For logistical reasons very likely it's going to be in Barcelona.
"From that point we'll see performance-wise where we are."