Ferrari team principal Maurizio Arrivabene says Formula 1 bosses have set a May deadline for confirmation of the 2021 F1 engine regulations.
Today's FIA press conference in Shanghai featured the first official comments from the Italian team on any of the 2021 proposals presented to the teams in Bahrain.
Initially Arrivabene did not want to be drawn on the matter and implied that Ferrari chairman Sergio Marchionne should be the man to speak, saying: "I have to point out it's not difficult to make a comment, it's simply not my job. It's the responsibility of the chairman."
However, when pressed he gave an insight onto the deadline for the finalisation of the 2021 engine rules, while confirming that all four manufacturers had made their position clear to F1's bosses before the Bahrain meeting.
"Liberty, if I'm not wrong, they gave us a deadline for the end of May, I think," he said. "I hope that this deadline is going to be respected.
"It's a bit early somehow, and it's far, if you are looking at the situation from another point of view, a technical point of view, concerning the engines.
"We, Mercedes, Renault and Honda sent a letter one month ago explaining in detail our position. Now it's quite clear."
Mercedes boss Toto Wolff suggested that a decision by May was a Liberty target, rather than a firm requirement.
"In order to have enough time for proper preparation for 2021 for power unit regulations a May date was mentioned," Wolff told Autosport.
"But it wasn't a deadline, it was an ideal date.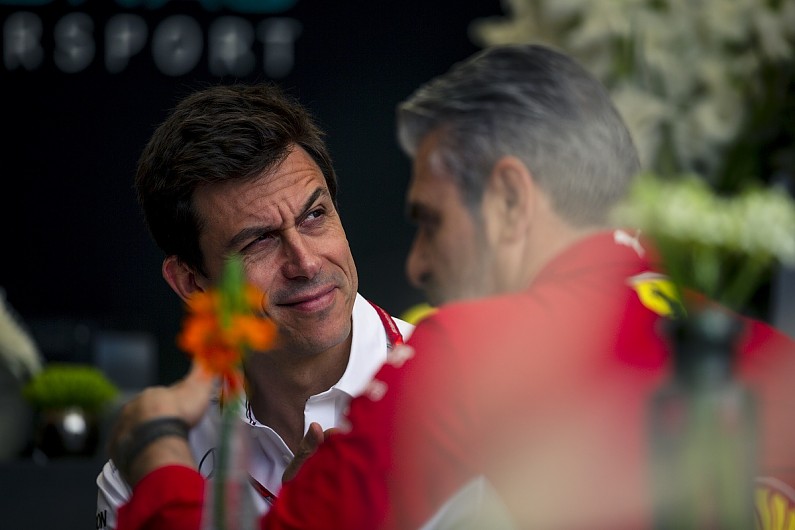 "There are so many views and opinions around that need to be collected in order to be able to take an informed and educated opinion.
"They will come back to us to speak one-to-one with the teams."
Arrivabene added that the $150m budget cap proposals are being reviewed at Maranello.
"We are reading the overall document, we are discussing," he said. "We will see in the future if it's achievable or not."
He stressed that all aspects of F1 2021 - engine format, chassis rules and financial - had to be considered as a package.
"All the elements they are important, because they are linked together somehow," he said.
"So I hope soon we find an agreement - if any - related to the various topics that are in the proposal."
Arrivabene also made it clear that Ferrari's longstanding right of veto on rule changes could be part of governance revisions.
Asked how the team would react to losing it he said: "We'll let you know as soon as we go deeper into the conversation. You can see a smile on our face or not!"
Meanwhile Toro Rosso's Franz Tost also stressed the urgency of getting confirmation of the new engine rules.
"The power unit regulation has to be finalised soon, May/June," he said.
"Otherwise I don't think it's possible for new manufacturers to come into F1, because time is running away."
The Austrian confirmed that the overall plan is good for the midfield teams: "I support all the points that Liberty presented, and I hope that they will realise it."