Valtteri Bottas set the pace for Mercedes on the second morning of Formula 1 testing at Barcelona, ahead of Stoffel Vandoorne's McLaren.
Bottas put in the fastest time of 1m20.325s just before 1pm local time on soft tyres, going 0.055 seconds faster than Vandoorne managed on the new hypersoft compound.

Follow testing as it happens with Autosport Live

With temperatures barely above zero there was very little action in the first three hours, a short soft-tyre run from Carlos Sainz Jr's Renault offering the only representative lap time of 1m25.059s.
Then shortly before midday Bottas put in a run of his own on softs, which was subsequently trumped by Vandoorne's hypersoft run.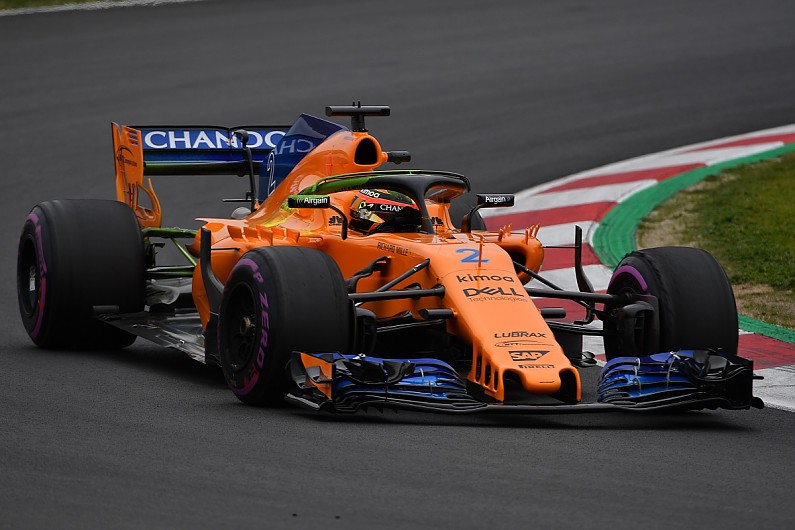 In the final hour before 1pm the action picked up, with the majority of cars completing timed runs.
Sergey Sirotkin, Esteban Ocon and Pierre Gasly spent several laps trading positions three to five in the order, with the Williams rookie eventually coming out on top by the time they all pitted.
All three were then knocked down the order by Sebastian Vettel's Ferrari on the medium tyres shortly before 1pm.
Sainz, who only completed 17 laps, reappeared shortly before 1pm as well to move up to fourth with a run on soft tyres.
The only drivers not to set a representative time in the opening four hours were Kevin Magnussen and Max Verstappen.
Magnussen's running was hindered by a trip through the gravel on an out-lap that required a return to the garage, while Verstappen was only seen for one lap early in the morning, before returning to the track briefly just before 1pm after taking an early lunchbreak.
Tuesday's test will not feature a formal lunchbreak, with teams being permitted to keep running between 1-2pm if they want the additional track time.
Tuesday morning times
| Pos | Driver | Car | Time | Gap | Laps |
| --- | --- | --- | --- | --- | --- |
| 1 | Valtteri Bottas | Mercedes | 1m20.270ss | 1m20.270s | 43 |
| 2 | Stoffel Vandoorne | McLaren/Renault | 1m20.325ss | 0.055s | 28 |
| 3 | Sebastian Vettel | Ferrari | 1m21.341ss | 1.071s | 30 |
| 4 | Carlos Sainz | Renault | 1m22.424ss | 2.154s | 17 |
| 5 | Sergey Sirotkin | Williams/Mercedes | 1m22.844ss | 2.574s | 37 |
| 6 | Esteban Ocon | Force India/Mercedes | 1m22.907ss | 2.637s | 20 |
| 7 | Pierre Gasly | Toro Rosso/Honda | 1m24.488ss | 4.218s | 31 |
| 8 | Charles Leclerc | Sauber/Ferrari | 1m24.945ss | 4.675s | 38 |
| 9 | Kevin Magnussen | Haas/Ferrari | 1m42.276ss | 22.006s | 6 |
| - | Max Verstappen | Red Bull/Renault | - | - | 3 |