Ferrari would suffer if it follows through on its threat to quit Formula 1, says FIA president Jean Todt.
Ferrari president Sergio Marchionne complained about F1's plans to increase standardisation in the proposed 2021 engine rules, saying "I don't want to play NASCAR globally".

That echoed the concern of rival manufacturers Mercedes and Renault, who said the rules could lead to an arms race, but Ferrari went further in saying it could quit F1 if it did not back the final regulation.
Under bilateral agreements, Ferrari and the rest of the teams on the grid are committed to F1 until the end of 2020 but anything beyond that has not been agreed.

DIETER RENCKEN: Take Ferrari's quit threat seriously

Todt, who was team principal during Ferrari's dominant era in the early 2000s (pictured below), said Ferrari would hurt itself as well as F1 if it quit.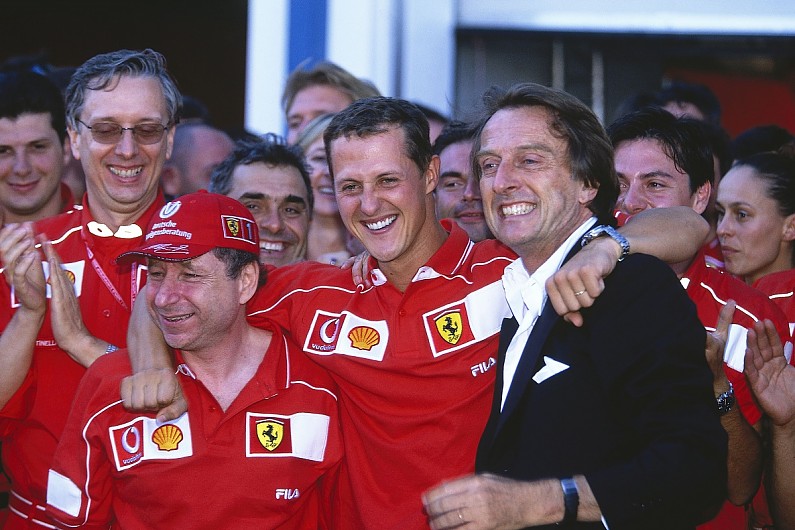 "I'm afraid to see Ferrari or Mercedes leaving," he said. "That is their choice.
"What is sure, is that we don't want anybody to leave, but of course, Ferrari is an iconic brand.
"It is a team which has been part of every single Formula 1 championship since its creation so I do not want to see Ferrari leaving.
"But I am not sure it will be a good thing for Ferrari to leave Formula 1 because Ferrari is a unique brand - combined between racing and road car.
"So I think it will be painful for Ferrari not to be in Formula 1.
"But that is not my responsibility."
Since the initial Concorde Agreement of 1981 was implemented, Ferrari has had the right to veto F1 regulations.
When asked for his view on whether that veto would remain when the next contracts are agreed from 2021 and beyond, Todt said the matter is under discussion.
"Surprisingly enough when I was in the position as president of the FIA to discuss Ferrari's privilege of their veto, it was something I wanted to discuss with the teams because I wanted to get their opinion," he said.
"They were all in favour. Whether it will be the case in the future, it's something that will be discussed."
Autosport has produced a standalone special magazine to celebrate our 70th birthday. All current print subscribers will receive a copy for free. To order your copy of the 196-page Autosport 70th Anniversary issue, please go to: autosport.com/autosport70th