Carlos Sainz Jr says he's sorry to see his former Toro Rosso team mate Daniil Kvyat dropped by Red Bull, and hopes that he can return to the Formula 1 grid.
Red Bull has confirmed that the Russian driver is no longer part of its programme after eight seasons, and he is now looking for a drive, already contacting Williams and Sauber to offer his services.
"I do have feelings, because Dany has been very close to me since go-karting days," said Sainz.
"We joined the Red Bull programme on exactly the same day in 2009, and in 2010 we did our first year.
"I was hoping to have him also in F1 for many years, and I hope I find him back in F1 soon."
Sainz said there is enormous pressure to perform at Red Bull, but the toughness of its scheme produces better drivers.
"It's probably the toughest platform out there," he said. "It's the one that gives you the most, but it can also take away everything that it gives you.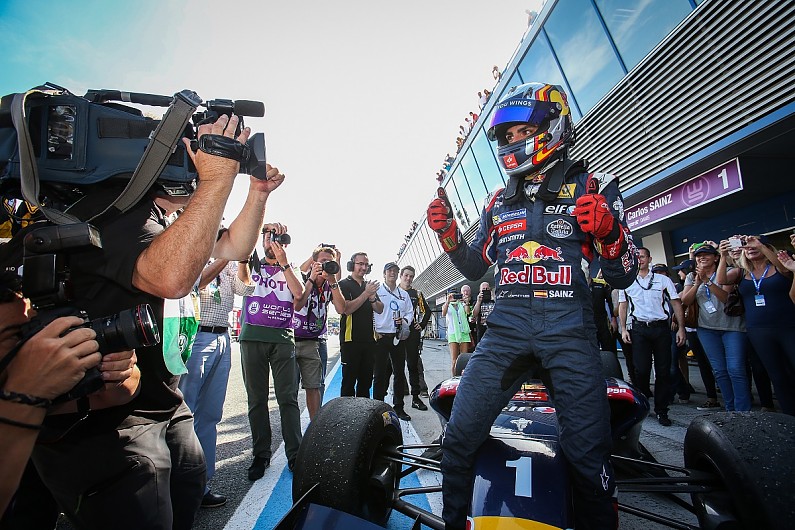 "For me, and for everyone that has even been dropped by Red Bull or given a chance, without them we would have never had a chance to drive an F1 car or compete in F1.
"They are very tough, but they have reasons to be tough.
"It made me the driver I am today, without that pressure, without that 'must win, must perform, must deliver' like Helmut Marko says - it's his favourite word, 'deliver' - I wouldn't have taken a big step in 2014 to win the World Series [Formula Renault 3.5 title].
"It's such a big pressure. I wouldn't have taken a big step in 2015 as a driver, and I wouldn't be a Renault driver now, after building up so much experience and confidence in myself."
Sainz added that there was a different atmosphere at his new home at Renault, where he has switched to for the remainder of this year and 2018.
"It's a different way of doing things, it's a different approach," he said.
"In the end what counts is always the same, that is the result. If the result is good, they will be happy.
"Nothing changes in F1, the last result is important, and it counts."