Sebastian Vettel believes Maurizio Arrivabene is the key architect of Ferrari's recent revival in Formula 1 and says he "absolutely" wants him to stay with the team.
There have been suggestions recently that senior Ferrari personnel could be reshuffled, following the Scuderia's recent collapse in the F1 world championship after a spate of reliability problems and a poor performance in last weekend's United States Grand Prix.
But Ferrari president Sergio Marchionne suggested it would be "idiotic" to blame Arrivabene or technical director Mattia Binotto for the team's recent slump, and Vettel also threw his weight behind Arrivabene ahead of this weekend's race in Mexico.
When asked whether he wanted Arrivabene to stay in post, Vettel replied: "Absolutely. What is his strength? Look at the results, look at where Ferrari was after 2014, how competitive Ferrari was in 2014 and how in unreasonable shape it was.
"The spirit was down. He is the key person responsible for bringing that back, to open things up and change things that were done for 20 years before that.
"He has an innovative and creative way of thinking, he is the right man, he is a good leader, he is well respected by all the people - no matter what level of the company. Absolutely I am a fan.
"If you look at the results, they are coming. This year we would have liked it to be a bit different, but these things happen - we're still growing the team, growing the culture, we are still on that journey.
"The expectation is always high. We have made massive steps in the last three years and we have to continue to make those steps.
"Where we have gone '15-16, through '16, and for '17, things are heading in the right way, and he is a key person for that."
No one expected Ferrari strength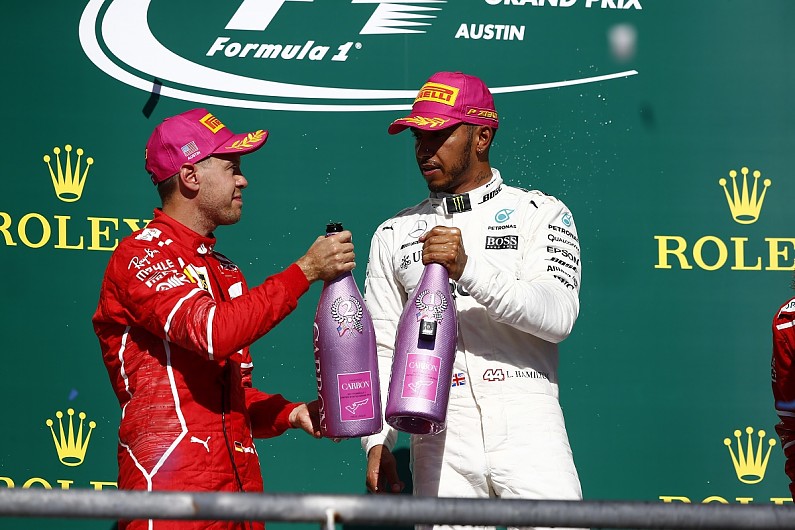 Lewis Hamilton only needs to finish fifth in Mexico to clinch his fourth F1 championship.
Although Vettel's own title hopes are hanging by a thread, he says Ferrari has had a "really good year" overall, and that "no one expected us to be that strong".
"The pity was there were a couple of races where we were just not there to fight," Vettel added.
"I would have loved to even be on three wheels in those races, but they obviously got away from us and we were just sitting on the sidelines.
"That was bitter. In the end it made a big difference, [but] we are now where we are - we still have a chance, we want to win the last three races and I think we can.
"We have proven probably everybody wrong - there was a lot of talk in the winter about Mercedes, who were favourites, a lot of talk about Red Bull, but not so much about Ferrari.
"Overall the team has been incredible to be where we are now. No one expected us to be that strong, so there were a lot of positives."