Sebastian Vettel admitted he failed to turn enough laps in second practice for Formula 1's United States Grand Prix after a "messy" afternoon and a high-speed spin limited his running.
Vettel lost the rear of the Ferrari F1 car on turn-in to the penultimate corner at Austin, just 20 minutes into the session, and spun into the gravel trap.
He recovered to the pits, but lost that set of tyres and while he managed one performance run later on, he lost more time when he pitted after complaining of a potential problem with the front axle.
"It was a messy afternoon and not an easy session but the car is quick so no need to worry," said Vettel, who completed just 11 laps.
"The only lap I had was the one on the ultra-soft. Before that I did a mistake taking too much risk earlier in the session. I lost the rear into Turn 19, it was my mistake, so we lost that set of tyres.
"At the end, there was something not right with the car. We came into check, we didn't find anything. Obviously we lost a lot of time but you need to take precautions.
"Now we need to have a good look, but I'm sure for tomorrow we'll have more planned running and less trouble."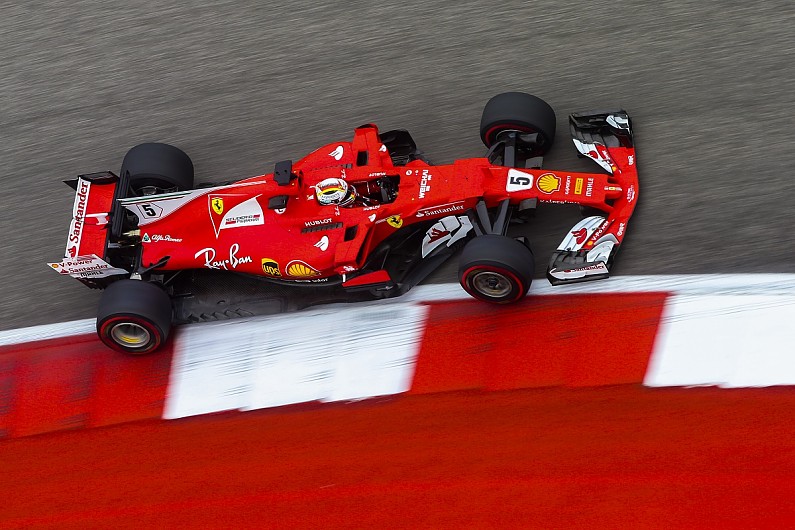 Vettel ended the second session third quickest, 0.524s off the pace set by Mercedes driver and championship leader Lewis Hamilton.
Vettel is in need of a strong result this weekend, as he trails Hamilton by 59 points in the drivers' standings with only four races and 100 points remaining.
When asked if he felt he had a car capable of matching Mercedes at Austin, Vettel said: "When we're on track, I think yes, but today we spent more time in the garage, which wasn't the right thing.
"Things are heading in the right direction, but I didn't get enough laps. They [Mercedes] had a much better day than us.
"The lap I had was the only real lap I had and it was not very good. I'm sure we can step it up.
"The main thing is Kimi did some running, so I think we've got enough information.
"I need to find the rhythm tomorrow, but the car is good so I'm not too worried.
"We just need to make sure we get everything in order and then it should be OK."