Stoffel Vandoorne was "exposed" at the beginning of his Formula 1 career by having Fernando Alonso as his McLaren team-mate but now has confidence, says Eric Boullier.
Rookie Vandoorne has recently moved ahead of Alonso in the drivers' standings with career-best seventh places in the Singapore and Malaysian Grands Prix.
McLaren's racing director Boullier says since June, Vandoorne has adapted his driving style and begun to get on top of his difficulties with the tyres.
Asked by Autosport to explain Vandoorne's turnaround, Boullier put it down to "hard work, trust, confidence and talent".
"He has been very exposed because of his team-mate, Fernando, a double world champion," Boullier said.
"Any young driver who joined F1 in the last five years had a period, the same as Stoffel, to adapt to F1.
"If you're in a [smaller] team, it's more quiet. But if you're at McLaren, next to Fernando Alonso, obviously it's more difficult.
"Since June now, the approach we had with Stoffel, and his approach with us, has been a bit different.
"We've worked on his understanding of F1 and obviously tyres.
"Now he has gained the confidence he has needed to be able to extract the best out of his car.
"This is why you're seeing the Stoffel we are expecting to unlock."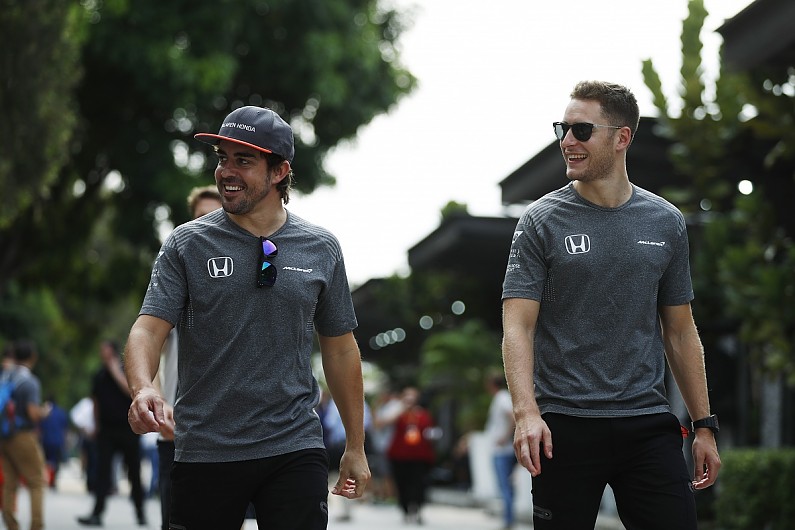 Vandoorne says he feels more settled with McLaren and has now developed a confidence with the car that helps him push on.
"The way I am working with the team, working with engineers has developed a lot," said Vandoorne.
"Having had the opportunity to have a bit more track time enabled us to see what I needed from the car, to understand what I needed from the car.
"I am just confident that things will work and things will go and that is a nice feeling to feel comfortable and do with the car what you want to do."