Mercedes team principal Toto Wolff says he feels sympathy for Sebastian Vettel after Lewis Hamilton's championship rival suffered misfortune for the second successive Formula 1 race weekend.
Vettel will start from the back of the grid for Sunday's race at Sepang, with title rival Lewis Hamilton on pole, after a turbo pressure issue meant he could not complete a timed lap in Q1.
It comes after the Ferrari driver was involved in a chain reaction crash at the start of the Singapore Grand Prix that ultimately forced him out of the race, while Hamilton won to extend his lead to 28 points.
Wolff says while the tense title fight means there is no reason to feel guilty about taking advantage of a rival's misfortune, he can't help feeling sympathetic.
"We and Ferrari, we take no prisoners," said Wolff.
"It's about winning races and winning the championship. This is what our objective is.
"But I can feel for Ferrari and I can feel for Sebastian because I know it's a difficult situation.
"We've been there in the past, I've seen Lewis's engine go up in smoke in Budapest in 2014.
"I've seen his engine blow up in Malaysia last year (pictured) with a solid lead that would have recovered his championship aspirations. So I can relate to it.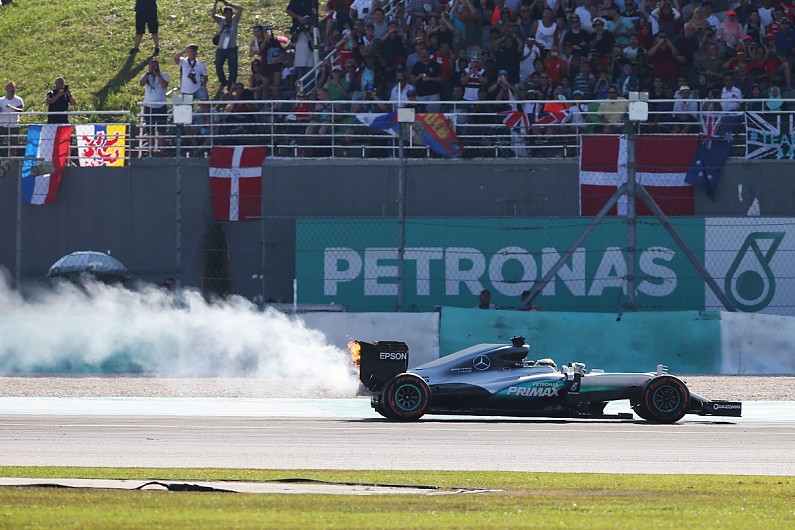 "The world wants to see them fighting and I think the two of them enjoy fighting on track, they are fighting for the world championship.
"That's clear but it's motor racing, you need to put it all together."
Mercedes looked on course for a challenging weekend after struggling for pace in Friday practice, but it appeared to turn a corner on Saturday and Hamilton surprised himself by taking pole.
He was aided by Vettel's problems ruling the German out of the pole fight, while the second Ferrari of Kimi Raikkonen made a mistake at the final corner and missed out on pole by just 0.045s.
When asked what made the difference to allow Hamilton to take pole, Wolff said: "He just drives the car perfectly. He manages to cope with a car which is maybe capricious.
"Then when it matters, he's able to put it in the right place.
"[In practice] Ferrari was the quickest car on the long runs and on the single lap, Red Bull was there or thereabouts and we were the third force.
"Then in qualifying, it all changed. With Lewis's driving, he was the quickest out there.
"We haven't seen Sebastian obviously and Kimi was on a very good lap but made a mistake and at the end, the stopwatch is what counts."