Romain Grosjean is concerned Formula 1 cars will not be able to race in the rain in the Singapore Grand Prix, as bad weather arrived on Sunday morning.
A downpour hit the Marina Bay track just four hours before the F1 race, delaying the start of the Porsche Carrera Cup Asia support race because conditions were so bad.
Although the chance of rain does decrease over the next few hours, showers remain possible throughout the time the F1 race is scheduled to run.
Grosjean fears driving F1 cars at night may be impossible in the wet as the spray thrown up towards the lighting potentially limits visibility too much.
When asked if it would be possible to race at night in the rain, the Haas driver said: "I've got no idea - and that is the concern I've always had with this race.
"With the lights high up, if the spray goes up we may not see much.
"But let's see. I don't know how it is going to work."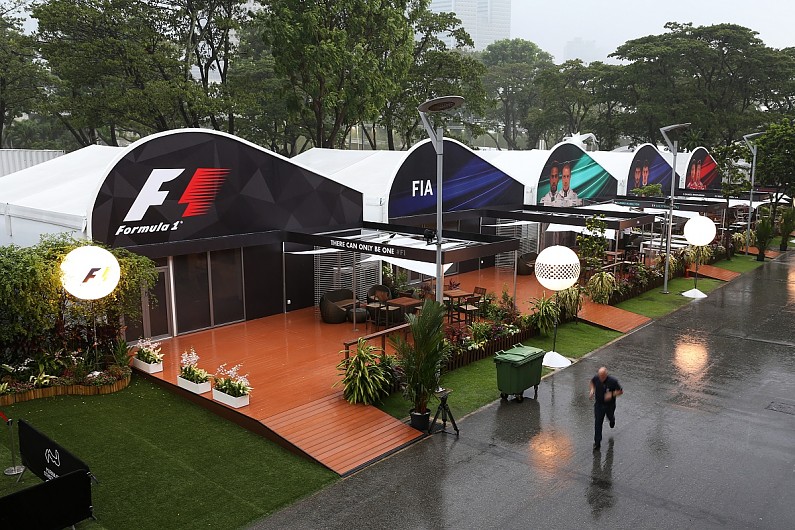 Poor weekend for Haas
Grosjean believes only crazy circumstances would give his Haas team a chance of decent points from a so-far difficult Singapore GP.
He qualified 15th, after suffering snap oversteer in Q2, and has been unable to find a good balance all weekend.
"Performance wise we are where we are," he said. "We haven't been good this weekend.
"We have never had a good balance, we have been struggling a lot with that, a lot of understeer for me.
"But this is one of those races where a lot can happen, especially with the safety cars and being in the right time at the right place with the right strategy.
"So we are very much hoping we get it right, and we get a bit of luck."