Mercedes is working on developments to improve its high-downforce performance in Formula 1 this year, but Valtteri Bottas does not expect them to be ready for the Singapore Grand Prix.
While Lewis Hamilton has won three of the last four races to take the lead in the drivers' championship for the first time this year following the Italian GP, Ferrari is widely expected to strike back next time out on the streets of Singapore, given that it has already enjoyed victories on similar circuit layouts in Monaco and Hungary.
"We are going to Singapore knowing that it could be tricky for us," said Bottas.
"We've seen on circuits that require a lot of downforce, Ferrari has been really strong, also in hot races they seem to be really strong. Even Red Bull can be really good.
"So we do have a lot of work to do with the high-downforce package we have.
"We have some upgrades on the way, but not really yet for Singapore.
"It's going to be a challenge, and we don't think we are favourites going to Singapore."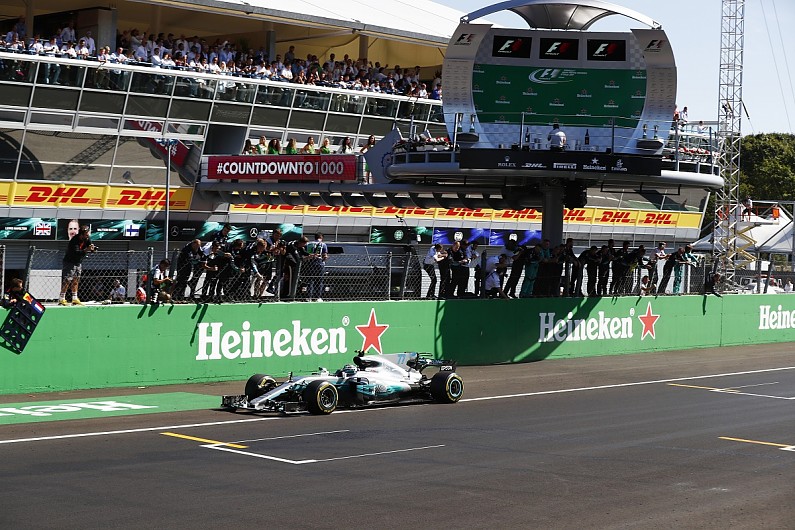 Bottas hailed a breakthrough Mercedes made with its car at Monza, where he finished a comfortable second to Hamilton, saying the team found a "different kind of stability" compared to the rest of the season so far.
But he does not believe that will automatically benefit the team in Singapore as well.
"We got a good balance and we did a really good job setting up the car," he said.
"But [Monza] is so different to any other track, so we can't rely on that - 'OK, now we found something that's going to help towards the end of the year'. We don't think that way."
Mercedes motorsport boss Toto Wolff feels the team can overcome its difficulties on tighter tracks, but he conceded that Singapore will suit the W08 far less than Silverstone, Spa and Monza have recently.
"I still believe there are certain characteristics of the tracks that suit the car or not, and you can see this year the slow, twisty circuits have rather suited Red Bull and Ferrari," he said.
"Lots of high speed downforce was good for our car.
"Now, I don't think that's a pattern you can't break. It's about understanding the car and the more we clock mileage the more we learn about it.
"You can see we didn't have any issues in the slow speed [corners] at Monza.
"Nevertheless I still expect [Singapore] to be a more difficult weekend for us than Monza, Spa or Silverstone because of those characteristics."