Sergio Perez and Esteban Ocon have been threatened with race bans by their Force India Formula 1 team if they collide again after their Belgian Grand Prix clashes.
The duo came together twice at Spa, with their second collision on the run down to Eau Rouge breaking Ocon's front wing and giving Perez a puncture.
With Perez and Ocon having previously rowed in Canada, collided in Azerbaijan and then clashed again in Hungary, Force India chief operating officer Otmar Szafnauer immediately said they would no longer be allowed to race each other.
Now he has declared the pair risk being dropped for a race as punishment for any further problems.
Mercedes adopted this policy last year after Lewis Hamilton and Nico Rosberg collided at the Austrian GP.
Asked by Autosport if Force India would go as far as benching one of the drivers, Szafnauer said: "Yes. If it happens again, we have to figure it out.
"We would have to start thinking about who we would stick in the car."
The on-track clashes at Spa were followed by a war of words in the paddock, with Ocon telling television crews that Perez had risked both their lives and later tweeting that his team-mate had tried to "kill" him.
Perez took to social media to refute that allegation on Sunday night.
Szafnauer said he was particularly upset that Ocon and Perez had collided again as Force India had given them so many opportunities to keep fighting fairly.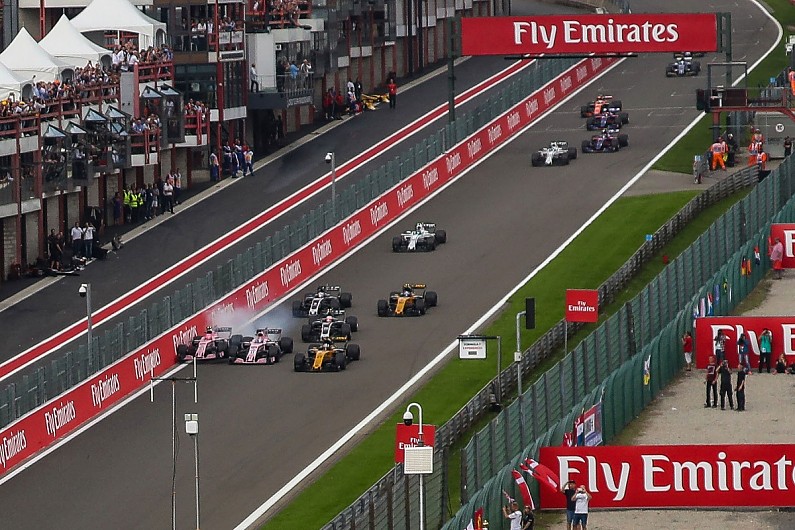 "I am disappointed that they couldn't sort it out, and that the team has to now play big brother," he said.
"That is disappointing. But the team comes first and that is what we have to do."
Pushed on whether Force India bosses should have been harder with the pair when tensions flared earlier this year, Szafnauer replied: "If we would have done that initially, maybe this wouldn't have happened if we had rules of engagement.
"So you can say that we lost out on some points.
"But there is always that balance between the show and allowing them to race and pushing each other, and artificially controlling it, which we don't like to do."
Perez and Ocon were informed of the new policy in the post-race debrief in Belgium and a meeting will be held before next weekend's Italian GP to fully outline it.
"Before we lay down the law, we have to gather the information and openly discuss it with them," said Szafnauer.
"The rules of engagement will be changed. That is it.
"If there is no upside potential and only downside risk, then we hold station."
Ocon posted on Twitter on Monday morning that his post-race comments were when "upset" and "in the heat of the moment", adding that he appreciated Perez's apology.