The Mercedes Formula 1 team will try to ensure it has a 'plan B' for its driver line-up in future after the experience of Nico Rosberg's sudden retirement last winter.
Mercedes was caught out when Rosberg, who had signed a contract extension last summer, announced his retirement having clinched the 2016 F1 world championship.
It recruited Valtteri Bottas from Williams as Rosberg's replacement and while it is expected to retain the Finn into 2018, the length of his deal remains a question mark.
Lewis Hamilton's current contract runs to the end of 2018, but Mercedes motorsport chief Toto Wolff said he is not taking anything for granted following the situation arising from Rosberg's unexpected decision.
"There is certainly a component that in F1 you need to have a fall back solution, a plan B," Wolff told Autosport.
"Even having a contract doesn't necessarily mean that everything is going to be like it is. There could be a change of circumstances.
"What we have now is a plan A, and then there is obviously various possible plays afterwards, because the driver market changes a lot in 2018 and 2019. It is important to consider plan B and C."
Most top F1 drivers come to the end of their current contracts either this season or next. "It is very complex," said Wolff.
"There are many possibilities where a driver could end up.
"There are certainly at least a handful of capable drivers who would perform in a Mercedes. So you have to consider all scenarios."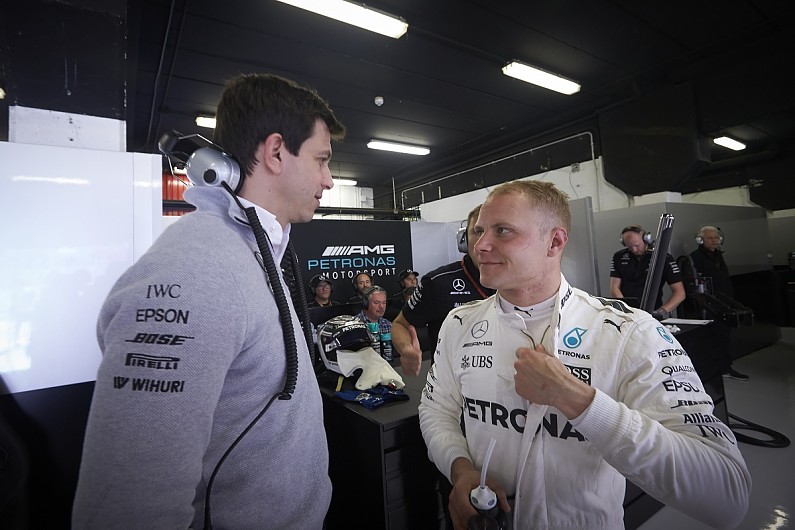 Wolff admits the team was fortunate to be able to sign Bottas, who it chose after concluding its test driver Pascal Wehrlein was too inexperienced and placed at Sauber instead.
"The deal was very difficult," Wolff said.
"It's easier to solve problems that you saw coming, but the Nico thing came out of nowhere, at a time when most of the drivers already had contracts for the following year. It was not easy.
"We knew that we had Pascal as a possibility, but he's probably too young to burn him in a car that is capable of winning races against the best driver on the grid.
"Valtteri was our primary candidate, but obviously Williams was keen to keep him.
"And it wasn't the only factor. It was multi-faceted - there was also if we could agree on a financial compensation with Williams.
"Who would they take? What would happen to Pascal? At the same time undoing the Nico contract.
"Finally to have achieved the outcome that was our most preferred option was good."