Renault Formula 1 development driver Oliver Rowland says Robert Kubica is a rival for a race seat at the team for 2018.
The 24-year-old, who sits second in the F2 title standings, drove Renault's E20 Lotus F1 car at Assen this weekend - the same car that Kubica used earlier this summer to evaluate his chances of making a comeback.
When asked by Autosport if he sees Kubica, who tested Renault's 2017 car at the Hungaroring last week, as a rival for a potential Renault seat next year, Rowland replied: "Well, my target is to be in Formula 1 and I think he's on the list, isn't he? So probably, yeah."
"From a neutral's point of view and everybody watching, it's a nice story.
"It was disappointing for him when he got his injury, he was just coming to the peak of his career.
"So I know that everybody has got a lot of respect for him and the driver that he used to be, so it's nice to see him back.
"[But] from my side, I'm looking to be in Formula 1 as well next year.
"The other part of me wants me to be there, and not other people, but let's see."
Rowland, who drove a McLaren MP4-26 as his prize for winning the McLaren Autosport BRDC award and Red Bull F1 machinery as a reward for being the mid-season leader of the 2015 Formula Renault 3.5 standings, completed two runs of the Assen TT Circuit during the Gamma Racing Day event.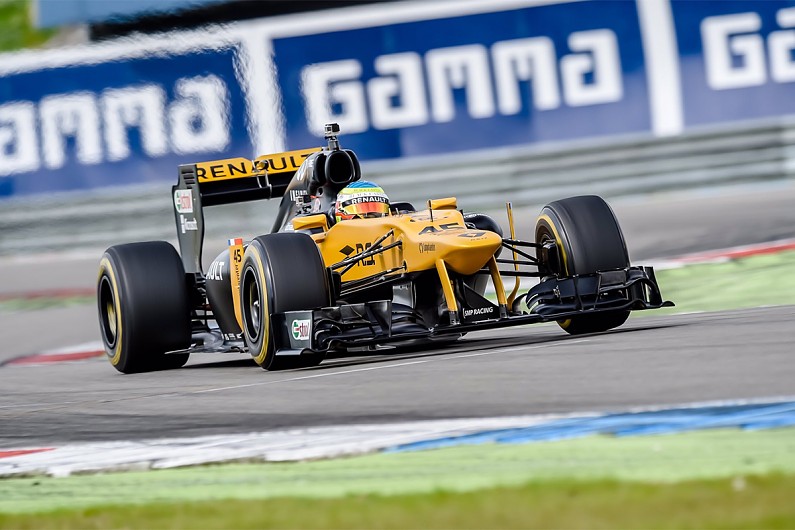 "As a kid you always dream about driving a Formula 1 car, so to realise [my dream] once again is fantastic, especially with Renault," he said.
"I'm their development driver and I've pretty much been affiliated with them ever since my first day in a formula car.
"I did Formula Renault, then World Series and I had backing in GP2 and F2, so it's nice to be able to complete the ladder and drive the Formula 1 car.
"Hopefully this is just the start."
F2 title fight 'back on'
Rowland is currently 50 points behind Prema Racing's Charles Leclerc in the F2 title standings, a gap he reduced by 21 points by winning the feature race and finishing second in the sprint event last time out in Hungary.
Following a disappointing weekend at the previous round at Silverstone Rowland suggested that Leclerc's advantage was beginning to look insurmountable, but after his performance at the Hungaroring he insisted the title fight was not over.
"If I have the pace I had [last] weekend and he's not on pole, then yeah, it's back on," he said.
"Fifty points is one race weekend worth of points, so it's a bad weekend for him and a good weekend for me."