Formula 1 championship leader Sebastian Vettel says he is in "no rush" to sign a new deal with Ferrari, even though he sees no reason not to do so.
The four-time world champion is in his third season with the Italian team, and leads the title race by one point over Mercedes driver Lewis Hamilton.
Vettel has won three races and scored four more podiums in the first races of 2017, his most competitive season at Ferrari since joining the team from Red Bull.
Asked about Ferrari president Sergio Marchionne's suggestion the team is ready to renew Vettel's deal when the German wants to, Vettel replied: "I don't see why not.
"I am not in a rush. I don't think the team is in a rush.
"I think I have a good contact to the team, I think they would tell me otherwise.
"There is no problem, nothing wrong."
Before moving to Ferrari Vettel had been supported by Red Bull throughout his single-seater career, including winning four straight F1 titles for the team from 2010 to 2013.
He switched to Ferrari after a winless 2014 season in which Red Bull was hamstrung by a poor Renault engine and Vettel's new team-mate Daniel Ricciardo won three races.
The British Grand Prix earlier this month was Vettel's 50th race weekend with Ferrari, although a failure on the formation lap of the 2016 Bahrain Grand Prix means he will not reach a half-century of starts until this Sunday in Hungary.
"I am enjoying it, being part of the Ferrari family," said Vettel. "We are all focused and determined to get Ferrari back to where it belongs.
"That is our mission, our target and our goal and that is what we are working on.
"It is true I haven't got a contract yet, but the primary object is not to look at papers and worry about those, it is to make sure we get some good results."
'NOT STRESSING TOO MUCH'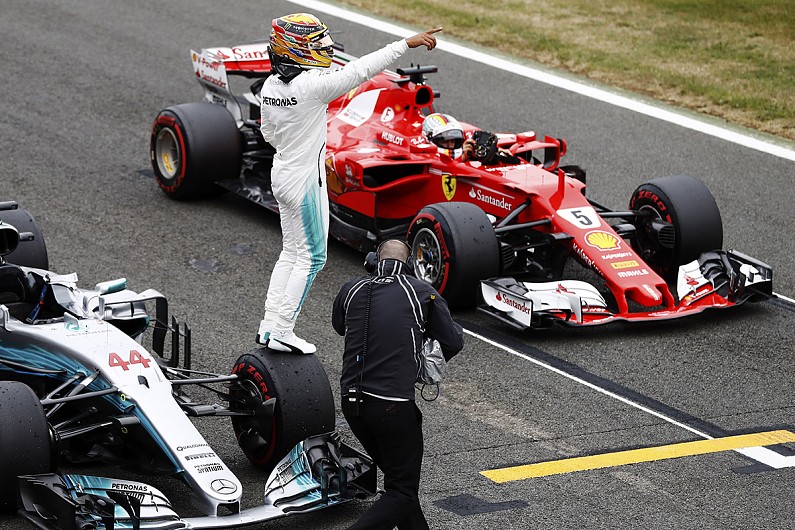 Vettel's points lead has been slashed from 25 points to one in the last four races, a spell in which the 30-year-old has finished on the podium once.
Hamilton has won two of those four races, including the previous grand prix at Silverstone, where Vettel struggled for pace and finished seventh after a late tyre failure.
Asked if he needed to react after the race in Britain, Vettel said he was "not stressing too much".
He added: "We know we have the car to fight for victory, we should look at positives rather than a race that didn't go well for us and did go well for them.
"You shouldn't get distracted from any short-term results.
"We were not happy with Silverstone, there were some weaknesses, but it was good for us to learn about what went wrong and we have some bits here that should help us.
"The determination and commitment is high to keep in front."